Date added: 24 July 2008
Mental Health in Swindon
Services heavily criticised in key national report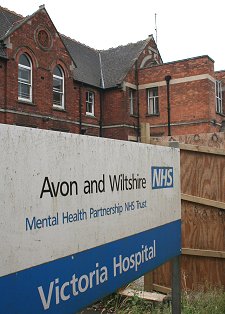 This picture of the former Victoria Hospital pretty much sums up the state of Mental Health provision in Swindon: neglected, largely forgotten and in dire need need of proper investment.
A report this week by the Healthcare Commission gave a damning verdict on the Avon and Wiltshire Mental Health Partnership NHS Trust [AWP], who are responsible for mental health care in Swindon, rating two of the four key services as "weak" and "failing to meet the minimum requirement".

In a scores table summarising the review of Acute inpatient mental health service across the UK, AWP came second to last.

Sally Thompson, AWP's Head of Nursing, responded by saying:
"We take our responsibility to service users extremely seriously and are committed to ensuring safe, high quality services across all 16 adult wards with the Trust.
"We are confident that we have, and will be able to address any areas of concern to ensure that we continue to provide the right care, at the right place at the right time.
"We know we have a way to go but thanks to the dedication of our staff we are absolutely committed to delivering the standards of care that people rightly expect."
The Trust also acted swiftly in appointing a new director and in-patient services manager, to specifically deal with the issues highlighted.

Until late 2007, the Victoria Hospital was the one of two key establishments treating those with mental health problems in Swindon, but now only the overstretched Sandalwood Court in Stratton-St-Margaret, which provides residential care for the most serious cases, remains.

A place already criticised in recent years for the inadequate treatment of patients there, including a high-profile inquest in to the suicide of one man under the centre's care, and another patient who died a week after a mix-up over medication.

The Sandalwood unit has been described as "a place totally lacking in care and compassion" by one former inpatient, who while suffering from depression after a failed IVF treatment was made to share a room with a recovering herion addict who self-harmed.
In 2006, the unit was forced to close for a short time due to staff shortages.