Date added: 29 April 2008
Sunday Times Rich List 2008
Who's got bags of it in Swindon?
Swindon might not be renowned for its oil barons, property tycoons or billionaire business people, but that hasn't stopped us getting a mention in The Sunday Times Rich List.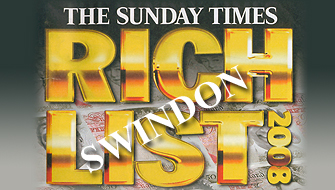 SwindonWeb take a look at our town's richest
Sir Martyn Arbib, one of the investors behind the consortium which took over Swindon Town football club earlier this year, was named 239th in the prestigious annual list.
The 68-year-old former City financier, worth a reported £370 million (after tax), earned his fortunes with his Perpetual fund management company, which he sold eight years ago.
But Arbib isn't the only local face to make it on the list.
Paddy McNally, the 70-year-old who lives in Ian Fleming's former Sevenhampton home, just outside Swindon, made his fortune selling advertising for Formula One and is currently ranked at 136th with a wealth of £610 million.
Slightly farther afield, but still in Wiltshire, pop star Sting is ranked 12th in the South-West region with just under £200 million.
The gobsmacking fact being, however, is that to qualify for the list you have to have a minimum wealth of £80 million.
We reckon that excludes the vast majority of money bag individuals who live in the area - and those who are well known who have made a few quid in the last few years - Melinda Messenger, Jamie Cullum and golfer David Howell amongst them.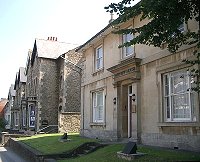 Rich, but not super rich:
In 2005, Swedish private bank Handelsbanken, who specialise in asset management, set up a branch in Swindon to cater for just that crowd.
And a recent survey by the world's most renowned private bankers, Coutts, revealed that there are over 300 aspirant millionaires in the Swindon area.
74 of which live within the Bath Road postcode!
Mel Turner-Wright
Old Town
Our guide to the oldest part of Swindon...