Date added: 28 February 2008
Kids learn fire safety
Arson prevention scheme kicks off at Kingsdown School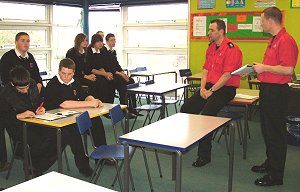 pupils at Kingsdown School
Pupils from Kingsdown School spent the day conducting 'Fire Watch' on Friday, as part of a scheme organised by Wiltshire Fire and Rescue Service.
It is hoped the initiative - which will see children taking on responsibility for monthly checks of the school's premises - will help uncover potential arson hotspots.
The group of 12 students, aged 14-15 years, will also check for incidents of graffiti and vandalism.
An initial pilot scheme, supported by firefighters from Stratton Fire Station's Blue Watch and the Fire & Rescue Service's education office, will run until the summer.
Kingsdown's headteacher, Wendy Taylor, said: "I am delighted that we are piloting this Fire Watch scheme, as it is something that is of huge benefit to both the students and the wider community.
"I am confident that this project will be a great success."
Mel Turner-Wright
Hose down!
Firefighters take part in charity car wash...

04 March 2009

Off to a bang
Serious explosion rocks Toothill - man arrested...

23 December 2007