Date added: 17 March 2008
Free hugs!
Swindon shoppers get a nice surprise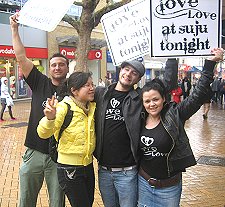 one passer-by snuggles up
Saturday shoppers were treated to something a little bit more than queues and rain this weekend - with free hugs on offer!
But no, it wasn't a hippy convention.
The hugs were courtesy of
promoters from Suju nightclub, who were enticing people to their 'Love Love' event that evening.
And with passers-by running over for a quick squeeze, it brought a little bit of fun to what had been a grey day.
19-year-old Sammy Morgan from Cirencester, said: "I've been shopping here a few times, but I've never seen them giving hugs out before - I think it's really fun!"
Mel Turner-Wright
Jack Nicholson
Hollywood star puckers up to SwindonWeb!...

23 January 2008