Date added: 04 February 2008
The joy of getting lost on the Magic Roundabout
GQ editor takes a shine to Swindon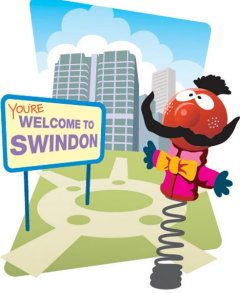 'Leave the sat-nav at home and
take a detour via Swindon'
Swindon gets some bad press at times, but it would seem we've now found a friend in the unlikely form of GQ editor Dylan Jones.
The men's magazine head, writing in the Mail on Sunday, paints a colourful picture of our precious town - or 'Roundaboutland' as he prefers to dub it - fuelled by his accidental arrival here after losing his way to Cheltenham.
An experience that totally changed his perception of what he initially thought was "the ugliest, most soul-destroying town in England."
But after enjoying a brief detour via our famous magic Roundabout, and realising Swindon brought the world Oasis and Billie Piper, Jones became a changed man.
"What Swindon needs I think is a bit of luck" he wrote.
"Thus I would like to begin to lobbying to have its status changed, thus enabling it to be nominated as the next British European City of Culture", before clarifying his comments by saying:
"Some might say this is about as likely as Christiano Ronaldo signing for Swindon Town, about as likely as Amy Whinehouse joining the Spice Girls.
"But I think Swindon deserves another chance."
Well, thanks, Dylan. We'll second that.
Mel Turner-Wright
40 Years Of Magic!
Swindon's world famous roundabout is 40 years old this month - TELL US YOUR MEMORIES

12 September 2012