Date added: 19 December 2007
Stuck for a Christmas present?
Record a song for your loved one!
The 'Your Voice Roadshow' has come to Swindon, giving talented Swindonians (or not-so-talented in the case of SwindonWeb), the chance to record your very own single.

And yes, this really could be your big break!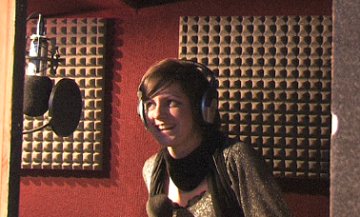 SwindonWeb's Mel Turner-Wright scares away
the crowds at the Your Voice Roadshow

With over 9,000 tracks to choose from including an abundance of Christmas classics, there's never been a better time to open your lungs and sing for Swindon.

The Roadshow will be next to the Millennium Clock in the town centre until Sunday, and for just £25 you could have your very own CD recorded and produced – so why not give it a try?

Admittedly, friends and family could be begging for mercy rather than screaming for an encore, but there's no denying this fun and unusual gift could be the perfect addition to your Christmas evening entertainment!
Mel Turner-Wright