Date added: 21 December 2007
Christmas cheer!
We've got a message from all your favourite Swindonians
Christmas is the time for good cheer, and that's why SwindonWeb has been trundling around the town to collect a Christmas message from your favourite people.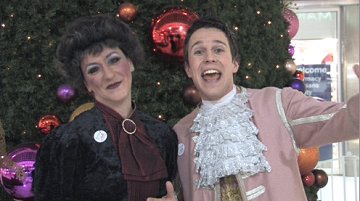 Stars from the Wyvern's Cinderella panto,
sending their Christmas wishes at the Brunel Centre

With everyone from Rod Bluh to Don Rogers dropping in to wish you a Merry Christmas, our entertaining message will really kick off the festive period.

So all there's left to say is Merry Christmas from all at SwindonWeb, and we look forward to seeing you in 2008!

And if you can't wait, why not check out our SwindonWeb Christmas party gallery...
Mel Turner-Wright

SwindonWeb Christmas Party 2007 - 21/12/2007
Sparkling Swindon
Our gallery of the fireworks going off across the town...

03 November 2007