Date added: 10 September 2007
Whitehouse Bridge claims another victim
This time a hapless lorry driver from London

Yes, it's happened again!

Another driver's been caught out by Swindon's famous battered bridge.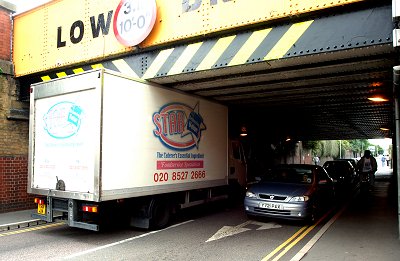 Star Stuck:
another victim under the Whitehouse Bridge


This time a seven and a half-tonner from London being the latest victim.

The hapless driver caught out just before lunchtime today.

Even an attempt to let down the tyres failing to extricate the lorry from blocking the bridge for well-over two hours. Much to other motorists' amusement and frustration.

The incident the latest in a long line of accidents that have befallen un-wary drivers over the years.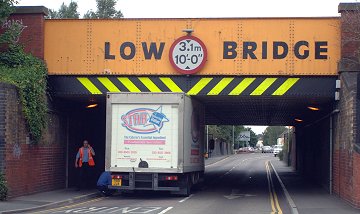 Feeling low:
not even letting the tyres down could get
the driver out of trouble

The Whitehouse Bridge, as it's known - 10ft (3.1m) high - having been hit nearly 150 times since 1990 alone.

Van and lorry drivers beware!
Not The Brightest Spark!
Oh not again! Wootton Bassett Road re-opens after another lorry falls victim to Swindon's famous railway bridge - SEE PICS

10 February 2015

Neigh! Neigh! Not Again!
Driver has a Mare as horsebox gets stuck under Swindon's most battered bridge - PHOTOS

28 February 2014

Here We Go Again!
Wootton Bassett Road closed as yet ANOTHER lorry hits the bridge - SEE PICTURES - ROAD NOW OPEN

22 January 2013

Not again!
Wootton Bassett road closed after lorry strikes railway bridge...

09 December 2011

A Bridge Too Far
It's claimed hundreds of victims - the story so far of Swindon's famous battered bridge...