Date added: 03 July 2007
Goodbye Swindon, hello Paris!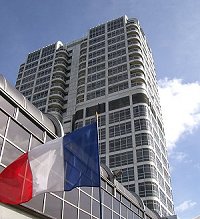 New rail link:
Swindon and France
Paris and Swindon - not exactly two places that are often mentioned in the same sentence.

Our Brunel tower hardly a match for their Eiffel tower - and our magic roundabout not quite the same as a wizz round the Arc de Triomphe.
But according to the people at Eurostar, come November we'll be closer than you think.

A presentation in town last week describing the benefits of a new fast-rail link straight from the UK to mainland Europe due to be launched in four months time - including Swindon station as a main access point.

The reality for the people of Swindon being we will soon be able swap the view of the River Ray for the River Seine in just four hours.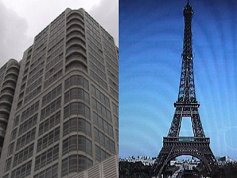 SWAPPING THE TOWERS


Swindon's new faster link

"Everyone in Swindon will benefit from it," said Gareth Headon, Eurostar Media Relations Manager.

"The new Eurostar station at St. Pancras means the west country mainline is now even better connected to the continent, linking places like Swindon and Paris in a way we've never experienced before."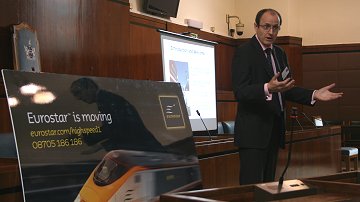 Gareth Headon, Eurostar Media Relations Manager,
explains about the benefits of
Eurostar's move to St. Pancras
The advantages of a new high-speed connection also potentially a boost for improving business and tourism in Swindon as well.
"We expect a rise in visitor numbers, definitely," commented Jan Leard, of the Swindon Tourist Information office.
"Not only will it open us up to people in France and Belgium, but it will allow us to show how close we are to the Cotswolds and the beautiful countryside that surrounds us."
"Another feather in Swindon's cap as far as transport links and communications go," added Alan Fletcher, Director of Great Western Enterprise and President of the Swindon Chamber.
"We're already a great destination for business, and this can only make us better."