Date added: 11 June 2007
Carers Week 2007
A week dedicated to Swindon's 15,000 carers was launched today.
"It's so important we recognise their invaluable work," said Swindon Carers Centre chief executive, Ms Mutsai Hove Bird, talking of the people who, without payment, provide help and support to friends, neighbours or relatives who could not manage otherwise because of frailty, illness or disability.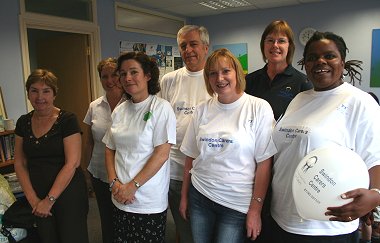 Raising awareness:


the staff at the Swindon Carers Centre celebrate the start
of Carers Week 2007, while helping
carers in the community (below)


And over the next seven days - Carers Week 2007 - the Swindon centre will be organising events, trips and campaigns to highlight the crucial role carers play in society.

The overriding message being - 'look after yourself', after recent research highlighted the fact that so many carers suffer health problems themselves as they struggle to juggle their roles as carers and living an everyday life.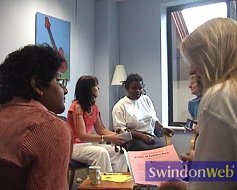 Care at Hand


the launch of
Swindon Carers Week 2007

The Wood Street Swindon Carers Centre a place that carers can visit for support, a friendly, understanding face and a chance to talk through their problems.

"Carers need to know they aren't alone," Ms Hove Bird added, "we're always here for them."

You can find more information about the Swindon Carers via the link below.

Swindon Carers - more information
Recognition for all
Volunteers are rewarded for their services to Swindon St. John Ambulance...

12 November 2008