Date added: 14 February 2009
Still snow go at Highworth Town
Cold weather means major headache for local non-league football
The roads are now clear and the ice may be melting, but the snow is still a major problem for non-league football clubs in Swindon.
None more than at Highworth Town, who have had to postpone their last four home fixtures due to the recent coldsnap. The latest, today's clash against Marlow at the Rec.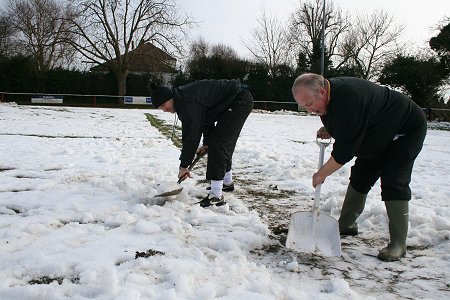 Highworth Town treasurer Clive Webb (r) and player/coach Paul Donnelly try in vain to make the pitch playable for today's game
"We just couldn't clear the pitch in time," Highworth Town treasurer Clive Webb told SwindonWeb, just after a decision was made at noon to postpone their Hellenic League game due to kick-off at 3pm.
"We made a big effort to get this game on because we need the revenue. We'll lose significant bar takings again today plus ticket money."
"A lot of other clubs are in the same boat. The snow has had a big effect on everyone's season."