Date added: 20 February 2009
Hidden treasure in Highworth
Roman pot found in Swindon among auction highlights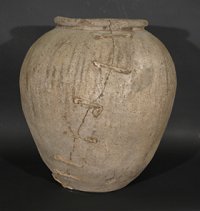 Pot-ential find of
the decade:
Roman pot found in Highworth
Tony Robinson and his Time Team will be kicking themselves for missing this one, but a substantial Roman pot, dug up near Swindon last summer, will be auctioned by Moore Allen & Innocent in Cirencester next month.

The pot, which measures 2ft tall by one-and-a-half feet wide and has a mouth 12 inches across, was found in pit with other Roman artefacts in June 2008.
The antique was found during excavations for a garage at Cricklade Road, Highworth, not far from Ermin Street, which connected the Roman towns of Glevum (Gloucester) and Silchester in Hampshire via Corinium (Cirencester).

The pot has contemporary clay 'stitching' down one side, suggesting it was broken and then mended by its Roman owners.

"What makes this pot so interesting is its sheer size," said auctioneer Philip Allwood, "It is incredible that it has been so well preserved for so long."

The pot carries an estimate of £800 to £1,200.

The Selected Sale of Antiques takes place at the Norcote salerooms, near Cirencester, on Friday, March 6 from 10am.