Date added: 25 February 2009
Jobs for success
Swindon people with learning disabilities share their employment needs

People with learning disabilities in Swindon had the chance to have a 'voice' today.

An event organised by Swindon Borough Council, saw 60 people of all ages get together with representatives from businesses at the Punjabi Centre, in Kembrey Street, to find out what kind of support people with learning disabilities want in the workplace.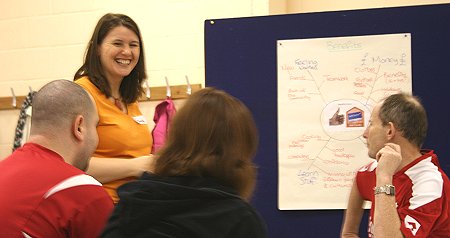 Swindon people with learning disabilities speak about the support they need in the workplace
High profile names such as BMW, Alder King, McDonald's, Dogs for the Disabled and DHL were amongst the companies involved in the day, which not only allowed employers to find out about the benefits of recruiting people with learning disabilities, but also offered a great networking opportunity for people to meet and ask prospective employers questions.
"This is an excellent opportunity for people with learning disabilities to have their say on what support they need in the workplace," commented Ann King, Supported Employment Project Manager, Swindon Borough Council.
"It's great that so many well-known businesses took part, and I hope that employers that have come along today take his message away that we have got enthusiast people that with a little bit of training can be really valuable employees."