Date added: 10 April 2009
Swindon Rotary recognise Robins
Presentation dinner thanks football club for charity help
Ten local charities who have benefitted from County Ground collections said thanks to Swindon Town football club last night.
In an evening organised by former Town chairman and Rotary fundraiser Cliff Puffett, STFC chief executive Nick Watkins received a silver plaque to recognise their support in helping to raise over £16,000 in recent seasons.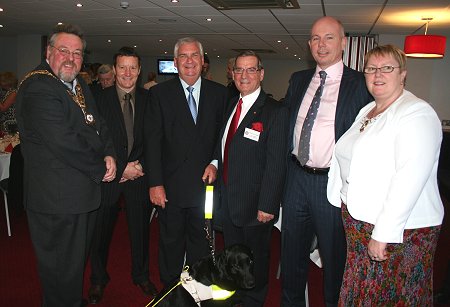 (l to r) Swindon mayor Steve Wakefield, STFC manager Danny Wilson, Guide Dogs for the Blind representative Alan Fletcher, Cliff Puffett, STFC director Jeremy Wray and mayoress Debbie Wakefield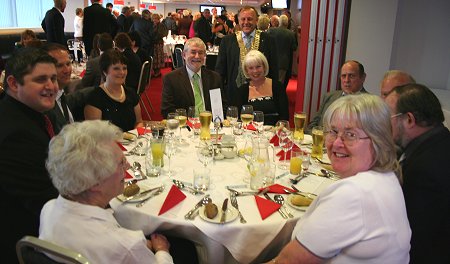 "Our Rotary collections at games have made a massive difference to good causes in Swindon, and tonight is our way of saying thanks to the club for their support," Mr Puffett commented.
Other members of the Swindon Old Town Rotary Club joined STFC manager Danny Wilson and director Jeremy Wray plus representatives from the Prospect Hospice, Swindon Breakthrough Breast Cancer Group, Swindon Guide Dogs for the Blind, Swindon Scrapstore, Swindon Hydrotherapy Pool, Swindon Downs Syndrome, OpenDoor, Headway, Willows Counselling and Swindon Talking Newspapers for the dinner, which included a video presentation of the Robins' past glories and on the pitch and their community work off it.