Date added: 07 September 2009
Beaufort Blaze
Firefighters spend three hours on blaze at derelict pub

Swindon firefighters were called out to Wootton Bassett in the early hours of Monday morning after derelict pub The Beaufort Arms caught fire.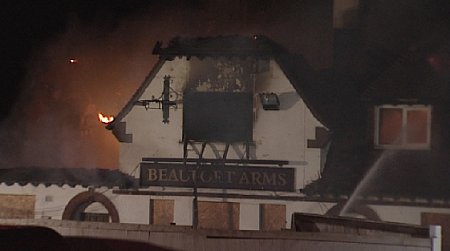 Blaze at the Beaufort Arms

The crews arrived just after 2am and it took until 5am to get the fire under control.
Firefighters could not pinpoint a reason that caused the blaze, although arson is strongly suspected.
A building inspector will now decide whether it is safe for investigators to enter the building.
The pub, located adjacent to the platform of the former Wootton Bassett railway station, closed in 2008.
Pet Rescue
Firemen wade into freezing water to save labrador - watch video...

Frozen Over!
Cold snap means dancing on ice for Stanton swans...

03 January 2009