Date added: 12 October 2009
Elite League Dream Shattered
Swindon 52 Wolverhampton 41

A brave Swindon effort eventually saw them fall just 5 points short on aggregate in their attempt to annex a first League Championship success in forty-two long years, since the days of the legendary Barry Briggs and company in 1967.

The Robins' thrust was thwarted by a Wolverhampton septet, which had gained a 16-point lead in the first leg at Monmore Green.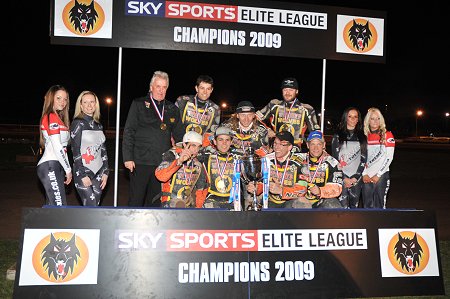 Despite the perceived mountain and the fact that the Wolves managed to repel all of Swindon's early moves to get ahead, the Robins began to up the ante with a glorious 'fiver' through Travis McGowan and Morten Risager in heat eight.

A tactical ride victory from Adam Skornicki in heat twelve halted their charge, before drama followed in a twice re-run and controversial heat thirteen, which ultimately saw Wolverhampton seal a fifth Championship win in the club's history.
SWINDON
Leigh Adams (C) 2 3 3 2 2* - - 12 (1)
Travis McGowan 1* 1 3 2* - - - 7 (2)
Ryan Fisher 2 0 1* 2 - - - 5 (1)
Simon Stead 0 3 2 2 - - - 7
Matej Zagar 3 2 3 1* 3 - - 12 (1)
Cory Gathercole 1 0 1 - - - - 2
Morten Risager 3 0 2* 1* 1* - - 7 (3)
Team manager: Alun Rossiter
WOLVERHAMPTON
Fredrik Lindgren 3 2 2 3 0 - - 10
Nicolai Klindt 0 1* 0 0 - - - 1 (1)
Adam Skornicki 1 1 1 6 - - - 9
Tai Woffinden 3 3 0 3 1 - - 10
Peter Karlsson (C) 2 2 3 0 - - - 7
Chris Kerr 0 0 0 - - - - 0
Ty Proctor 2 1* 1 0 0 - - 4 (1)
Team manager: Peter Adams
Referee: Dave Robinson