Date added: 22 August 2008
Swindon Robins 51 Coventry Bees 39
Robins rev to victory on Sweetman's debut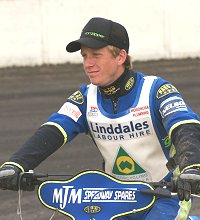 Two points in three rides:
Swindon Robins impressed a large crowd last night, when they took a solid 12 point victory over reigning Elite League champions the Coventry Bees.
Aussie youngster Richard Sweetman made his debut for the club, replacing Austrian reserve Manuel Hauzinger who missed the meeting after a heavy fall in Hungary on Wednesday.
Double figure hauls came courtesy of Leigh Adams, Troy Batchelor, and Jurica Pavlic - who also picked up his second successive Abbey Stadium Man of the Match Award.
Meanwhile, skipper Leigh Adams took a personal victory, when he was presented with a piece of commemorative glassware from Martin Ashby to celebrate his number one position in the club's all time scorers chart.
Swindon
1. Leigh Adams 3 3 3 3 1 - - 13
2. James Wright 0 1 2 0 - - - 3
3. Mads Korneliussen 3 1 3 1* - - - 8 (1)
4. Travis McGowan 1 0 0 2 - - - 3
5. Troy Batchelor 2 3 3 1 3 - - 12
6. Richard Sweetman 1 1 0 - - - - 2
7. Jurica Pavlic 3 1* 1* 2 3 - - 10 (2)
Team Manager: Alun Rossiter

Coventry
1. Hans Andersen 2 3 2 2 2 - - 11
2. Olly Allen 1* 2* 3 1* - - 7 (3)
3. Chris Harris 2 2 2 3 0 - - 9
4. Billy Janniro 0 0 1* 0 - - - 1 (1)
5. Simon Stead 3 2 2 0 - - - 7
6. Filip Sitera 2 0 1* F 1 - - 4 (1)
7. Robbie Kessler 0 R 0 - - - - 0
Team Managers: Colin Pratt & Peter Oakes

Programme Changes:
Ht 14: Pavlic replaces Sweetman, Sitera replaces Kessler

Ht1: Adams, Andersen, Allen Wright, 66.83 (3-3)
Ht 2: Pavlic, Sitera, Sweetman, Kessler, 67.65 (7-5)
Ht 3: Korneliussen, Harris, McGowan, Janniro 66.52 (11-7)
Ht 4: Stead, Batchelor, Pavlic, Kessler (ret) ,66.55 (14-10)
Ht 5: Andersen, Allen, Korneliussen, McGowan, 66.46 (15-15)
Ht 6: Adams, Wright, Stead, Sitera, 65.93 (19-17)
Ht 7: Batchelor, Harris, Sweetman, Janniro, 66.64 (23-19)
Ht 8: Allen, Wright, Pavlic, Kessler, 66.71 (26-22)
Ht 9: Korneliussen, Stead, Sitera, McGowan, 67.18 (29-25)
Ht 10: Adams, Harris, Janniro, Wright, 65.87 (32-28)
Ht 11: Batchelor, Andersen, Allen, Sweetman 65.99 (35-31)
Ht 12: Harris, Pavlic, Korneliussen, Sitera (fell) 66.23 (38-34)
Ht 13: Adams, Andersen, Batchelor, Stead, 65.96 (42-36)
Ht 14: Pavlic, McGowan, Sitera, Janniro, 67.18 (47-37)
Ht 15: Batchelor (B), Andersen (G), Adams (R), Harris (Y), 65.61 (51-39)