Date added: 19 September 2008
Hollyoaks in Swindon!
TV stars take on GWR boys in charity football match
Top totty from Channel 4's teen soap Hollyoaks were in Swindon this weekend, to take on presenters and journalists from Wiltshire's GWR fm.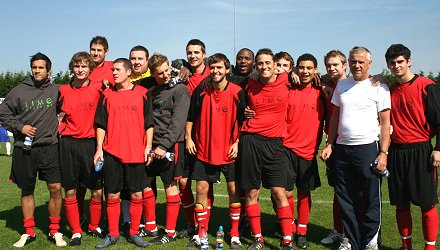 TV stars line-up before the charity GWRfm v Hollyoaks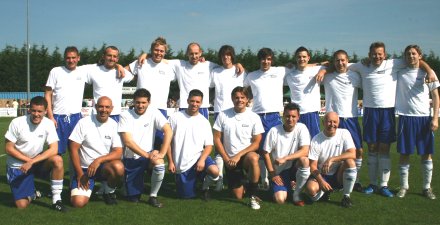 GWRfm team line-up ready for the big match
The teams lined-up in aid of the GWR Kids and Alder Hey Children's Hospital charities, with more than 1,000 locals turning up to show their support - and get a glimpse of the Hollyoaks boys in shorts!
With fun, food and football at the Swindon Supermarines ground, more than £6,000 was raised for the nominated charities.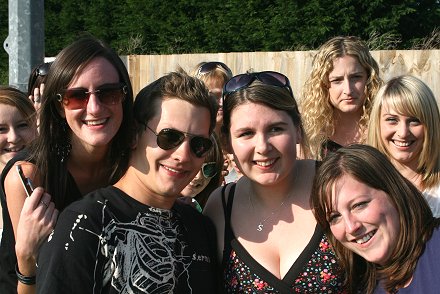 above: James Sutton who plays John Paul McQueen
poses with fans and below: Guy Burnett who plays Craig Dean
gives the girls something to scream about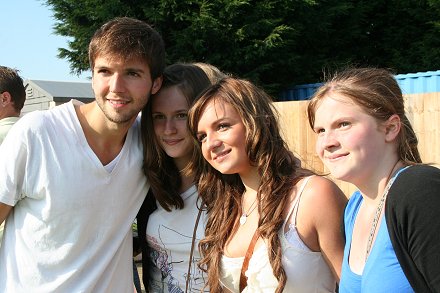 Hundreds of screaming girls turned up to the Swindon Supermarine pitch to cheer on their favourite TV stars - although they proved their talent was better on the TV rather than on the football pitch as they went home with a 12-1 defeat.
And don't forget - if you had your picture taken with one of the Hollyoaks stars, you can buy it here! Just simply sign-up to mySwindonWeb, choose the photo you wish to purchase and simply fill in your details - all proceeds will be going to the GWR Kiids appeal.
SwindonWeb would like to thank Picture Lizard in Old Town and Flare Photography for their help with the photos.
GWRfm v Hollyoaks picture gallery

Hollyoaks v GWR - 21/09/2008