Date added: 05 March 2008
Knockout Night for Swindon Supermarine
Legendary boxers turn out for charity dinner


Boxing fans from across the region took the opportunity to get 'ring side' with some of the most revered fighters in the business tonight.
In a charity dinner held at the County Ground organised by Swindon Supermarine FC, over one hundred guests enjoyed a night alongside such well-know local fighters as 'Swindon Steamroller' Eddie Neilson, Ricky Porter and Peter Neal.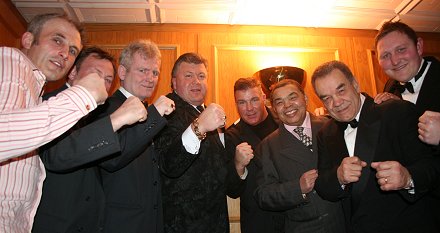 the boxing legends attending the Supermarine dinner
Special guest was the man 'Iron' Mike Tyson described as the 'toughest white man on the planet' - Joe Egan, a former heavyweight fighter who sparred with Tyson when the fighter was the undisputed champion of the world in the 1980s and 90s.
Other ring masters supporting the event included Gary Cass, Gavin Fitzpatrick, Denroy Brown, Joe Ceroni, Kid Sylvester, Paul Rogers, Cliff Curtis and Cliff Curtis Jnr.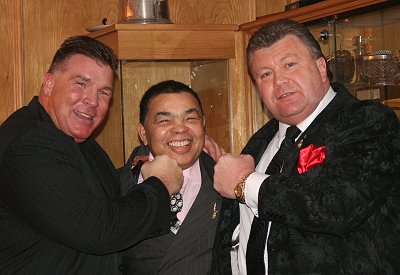 welterweight Ricky Porter (centre)
flanked by heavyweight
giants Joe Egan (l) and Eddie Neilson
Unfortunately, Swindon boxing star Jamie Cox couldn't attend due to training commitments.
The event was compered by BBC Radio Swindon's Mr Sport, Sean Hodgetts.
"It's been another great night for Supermarine," commented chairman Cliff Puffett, who organised the fundraiser.
"The club really punches above its weight when it comes to putting on sporting dinners that everyone enjoys."

Supermarine Boxing Legends Night - 05/03/2008
Cox Shows What He's Made Of
Swindon-boxer denied world title by George Groves in epic four rounds at Wembley - WATCH VIDEO

15 October 2017

Big Game Build-Up
Collier pleased with preparations as Supermarine players are told: 'Enjoy it!' - WATCH SWTV INTERVIEWS...

Jamie Cox
Swindon's gold medal-winning boxing hero...