The Railway Works
On 25 February 1841, GWR directors authorised the establishment of the railway works in Swindon.
This followed Locomotive Superintendent, Daniel Gooch's recommendation of Swindon as the ideal place for GWR's central repair works. Construction started immediately and a new Swindon was born.
Here's a short introduction to what was to become the world's finest railway works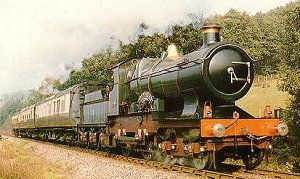 the world record-beating City of Truro
The coming of the railways made a huge impact on the life of Britain in the first half of the nineteenth century, but nowhere did it have an impact as great as it did on the town of Swindon.

Before the Great Western Railway completed its first section of railway from Paddington to Maidenhead Riverside in June 1838, the sleepy town of Swindon did have a weekly market and even an annual mop fair, but its population was still less than 2,500.
Gooch's Plan

By December, 1840 the railway extended through Swindon, where it also branched to Cheltenham and Gloucester, and the line from London to Bristol was completed in June of the following year.

Sir Daniel Gooch
favoured Swindon
But the 33-year-old Isambard Kingdom Brunel, the GWR's Engineer to the Company, along with his Superintendent of Locomotives, Daniel Gooch, were already concerned with the poor quality of locomotives supplied by contractors as early as 1838. And it was also clear that the GWR would need a central repair depot for the maintenance of rolling stock.
Gooch wrote in his diary: "I was called to report upon the best situation to build these works and, on full consideration, I reported in favour of Swindon, it being the junction with the Cheltenham branch and also a convenient division of the Great Western Line for the engine working. Mr. Brunel and I went to look at the ground, then only green fields, and he agreed with me as to its being the best place."

The nearby canal afforded direct connection with the Somerset coalfield, but more importantly, engines needed to be changed at Swindon because a different type was necessary to pull trains over the hills to Bath and Bristol than the relatively easy gradients between London and Swindon.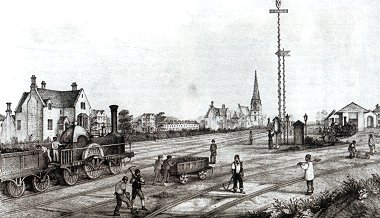 The birth of New Swindon:


the Swindon junction in 1847. Note the Railway Village in
the
background and St. Mark's church

The directors of the company rubber-stamped Gooch's plans in February, 1841 and work began immediately with many of the buildings constructed with stone obtained during the excavation of Box Tunnel.

Within two years (ie by January, 1843), the works already employed 400 men, including 72 highly skilled engineers, while the company had made provision for the vast influx of labour with the construction of the Railway Village, a Mechanics Institution, a Medical Fund Society and St Mark's Church all completed before 1850.
Almost from the beginning, the Swindon engineers were keen to see manufacture done 'in-house' rather than by contractors.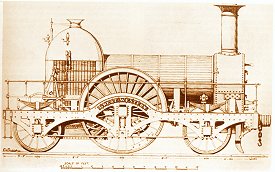 The Great Western:


the first locomotive to be built entirely
In 1846, the works produced its first locomotive, called the Great Western, and after that date engines were made in increasing numbers. Gooch and his staff, however, were not satisfied with the works producing just rolling stock and from 1861 they produced rails in Swindon's own mill.

This innovation caused a rift between company directors and Gooch who was so harrassed over his costs that he resigned, but it proved an important turning point. Within a year the brilliant Gooch was back as chairman of the company, apparently the victor in the battle between technology and finance.

One battle that the GWR was losing, however, was over the railway gauge, with Brunel's broad gauge about to be superseded by standard gauge. Swindon produced its first standard gauge locomotive in 1855 and until the final conversion nearly forty years later, Swindon gave birth to engines of both types.

The Swindon Works were already well established as a crucial part of the GWR network, but they were set to expand still further in 1867 when the company decided to build its new carriage and wagon works at Swindon.

Legend has it that, walking along the track from Swindon station with Gooch, Brunel chose the site by throwing a stone over his shoulder and decided to build the works where the stone landed. Another version suggests Brunel actually threw a sandwich, but neither story appears to have any basis in fact.

By June, 1868 the new carriage and wagon works were finished and the first coaching stock were wheeled out just over a year later. Swindon's future as a major manufacturing and repair centre was assured for the rest of the century.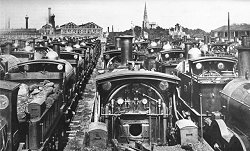 The end of broadgauge:


Locomotives lined up at the Swindon
(St. Marks church in the background)
The final conversion from broad to standard gauge took place with a mammoth feat of engineering on 21st and 22nd May, 1892 and thirteen extra miles of sidings were laid down as 195 locomotives, 748 carriages and 3,400 wagons and vans lined up for breaking up or conversion to the new gauge.
Swindon Works were entering a new era with the appointment of George Jackson Churchward as Locomotive, Carriage and Wagon Superintendent in 1902.
Swindon's major employer:
workers stream out of the Works
circa. 1910
Succeeding Joseph Armstrong (1864-1877) and William Dean (1877-1902), Churchward was a brilliant engineer and his 4-6-0 locomotive number 100 - ironically named 'William Dean' after his predecessor - proved a radical design which was to form the basis for the GWR's express passenger locomotives for the next half century.

It was his City of Truro (see picture, above) which became the first locomotive in the world to travel at over 100mph on 9th May, 1904.

Expansion of the Swindon Works continued, checked only by the First World War.
In 1920 the huge 'A' Shop was completed, covering 11.25 acres and heralding probably the heyday of the works, which now employed over 14,000 people.
Churchward, whose title was changed to Chief Mechanical Engineer in 1916, was succeeded by Charles Benjamin Collett (1921-1941) and Frederick William Hawksworth (1941-1949), and there was no stopping the rise of Swindon Works.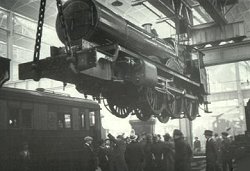 Golden era:
a Star class locomotive is lifted in
'A' shop in 1927
The first Castle Class locomotives were built in 1923 (Caerphilly Castle, number 4073) but even these were overshadowed by the colossal King Class, the flagships of the GWR, of which King George V (number 6000), built in 1927, remains the most famous. The workhorse Hall Class locomotives followed in 1928 as the GWR in general and Swindon in particular enjoyed an international reputation for engineering excellence for the rest of the pre-Second World War period.

Sadly, Swindon Works' greatest days were already behind it when Britain's railways were nationalised on January 1, 1948, bringing to an end the GWR's 113-year story. In 1959 the works were still covered by 85 acres of roofing, but the decline of the works was as rapid as its expansion over a century earlier.

By 1960, when Swindon produced British Railways' last steam locomotive (Evening Star, number 92220), it employed only 5,000 men. The payroll was down to 2,200 in 1973 and though it recovered briefly to 3,800 in 1980, the writing was already on the wall as the works failed to win outside orders and received a diminishing share of now limited British Rail Engineering Ltd (BREL) work.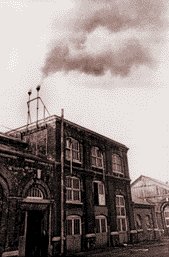 The final blast:
the Works hooter sounds
It was now only a matter of time before the works closed and when the fateful day arrived on 27th March, 1986, it was still a bitter pill to swallow for a town which had been shaped by the expansion of the railway works.

It has been suggested that the Swindon Works had been closed because the town was more able to face the future without railways than other railway towns and it is true that Swindon had already developed an infrastructure in which reliance on any one industry had long since disappeared.

But as the works site continues to be redeveloped - and with some skill - into something that Swindon people can enjoy, including a planned railway heritage centre, many still cannot help wondering whether the closure of Swindon Works might still be regretted.

The resurgence of railways is surely inevitable in the face of clogged roads and limited fuel resources and future generations may see another Swindon Works rise, one day, from the ashes.
Brunel Curry Kings
Rodbourne restaurant hosts Swindon175 fundraiser for Brighter Futures...

05 October 2016

All Aboard!
Coate Water Railway expands with opening of new Richard Jefferies Halt station - SEE PICTURES

01 August 2016

Get My Drift?!
Mad Mike Whiddett takes on the Magic Roundabout like you've never seen it before - WATCH VIDEO

21 July 2016

Snapshot Swindon
The Brunel teams up with Swindon175 for young photographer competition...

Rodbourne Road Roadworks
Bus lanes now open to help motorists & local trade as pedestrians follow in the footsteps old GWR workers - NOW REOPENED

26 April 2016

It's Swindon, Ma'am!
QUEEN ELIZABETH II: In her amazing 70 years on the throne, here's the 4 occasions Her Majesty officially stopped off in Swindon...

30 Years On
Large crowd braves the rain to hear the Hooter sound again. Swindon Works closed 26 March 1986 - WATCH VIDEO

26 March 2016

History Uncovered
Final resting place of Sir Daniel Gooch's brother and sister-in-law rediscovered in Swindon...

16 March 2016

Adver Towers Shelved!
UPDATE: Apology & plans withdrawn after public outcry over Old Town development proposal - HAVE YOUR SAY

12 March 2016

First Class!
Deacon's Jewellers creates Limited Edition GWR pocket watch - WATCH VIDEO

Tony Benn in Swindon
Labour stalwart campaigned against closure of the British Rail Works in 1985...

16 March 2014

Bravery Recognised
Proud evening as Swindon soldiers are awarded Operational Service Medals for Afganistan Tour - WATCH VIDEO

12 March 2014

UTC Building
We explore how the iconic college will look...

15 July 2013

Radnor Street Remembrance
Swindon honours its war graves at much-neglected cemetry - GALLERY + PICS FROM OTHER REMEMBRANCE DAY CEREMONIES

11 November 2012

Strictly Poppies
Come Dancing stars perform at the opening of Remembrance Field at Lydiard Park - GALLERY

09 November 2012

Swindon Railway Festival 2012
Join Pete Waterman and show sponsors Hornby Magazine for the ultimate display of GWR railway layouts - 14 & 15 SEPT

15 September 2012

On time for a brew!
Brunel complained about the coffee in Swindon but we're sure he'd have liked the new cafe at STEAM...

01 May 2012

It's Time To Celebrate, Ma'am
STEAM museum and Deacon's launch special GWR pocket watch to mark the Queen's Jubilee year - WATCH VIDEO...

11 April 2012

Final Ride of Respect
Thousands of bikes turn out for last Mother's Day parade through Royal Wootton Bassett - GALLERY...

Wootton Bassett Rocks!
Local people unite to make charity single & video for military charities - GET INVOLVED - VIDEO FILMING THIS SUNDAY...

15 September 2011

Everyone A Hero
ARCHIVE: Wootton Bassett honours Lieutenant Daniel John Clack - the final repatriation...

18 August 2011

The Final Repat?
Emotional farewell in Wootton Bassett for Marine James Wright...

11 August 2011

Doing Time Inside
A new book chronicles apprenticeships and training in GWR's Swindon Works...

31 July 2011

GWR Flower Display
Roundabout message for train travellers and motorists - visit STEAM this summer...

19 July 2011

Ride of Respect
10,000 bikers ride through Wootton Bassett to show appreciation for fallen soldiers...

04 April 2011

A Mother Mourns
Emotional repatriation at Royal Wootton Bassett...

30 March 2011

Royal Tribute
Prince Harry opens Remembrance Field at Lydiard Park...

09 November 2010

Sir Daniel Gooch
Bust & beer unveiled to celebrate the Father of the Swindon Works - BORN 200 YEARS AGO TODAY

Joseph Armstrong
One of the greatest figures in Swindon's history. Born on this day 200 years ago...

Life in a Railway Village
We explore what life is like living in the Swindon Railway Village 160 years after it was first built by the GWR....