It's Swindon, Ma'am!
Visits to Swindon by Queen Elizabeth II, our longest-serving monarch
Although Queen Elizabeth II no doubt passed through Swindon many times while using the Royal train for engagements in the South West, it is only on four occasions that she officially visited the town during her 70 amazing years on the throne - with November being definitely
'one's'
favourite month for a Royal visit to Swindon.
We salute you, Your Majesty.

The first occasion occurred three years before Her Majesty was actually coronated, when she visited the town on the 15th November, 1950 as part of the Borough of Swindon's (Est. 1900) own Jubilee celebrations.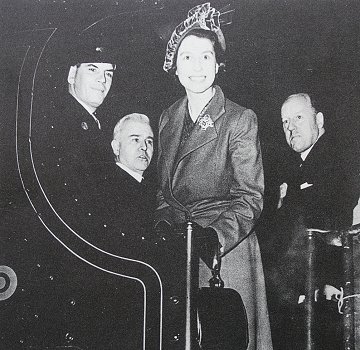 to the GWR works as Princess Elizabeth in 1950

Her Royal Highness travelled to Swindon from Paddington in London on the aptly named 'Star'-class locomotive No. 4057, The Princess Elizabeth.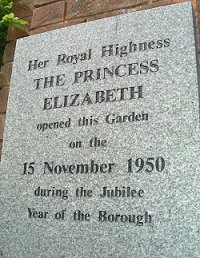 Memorial Garden, 1950
Her first port of call being the then thriving GWR Railway Works to take a tour of the engineering factory and to officially name locomotive No. 7037 'Swindon', the last 'Castle'-class train to be built at the Works.

Her Royal Highness then moved on to be greeted by thousands of flag waving children when she opened Moredon playing fields as part of her second engagement of the day.

Queen's Park was the next stop of the Royal cavalcade, where the Princess unveiled a plaque to commemorate her official opening of the Garden of Remembrance.

Her first trip concluded with lunch at the Town Hall with the Mayor and other Swindon dignitories, together with a number of specially invited guests.
2. Wyvern Theatre Opening
First official visit as Queen

But it was to be another 21 years before Swindon was honoured by the first official visit of Queen Elizabeth II when she inaugurated the town's new Civic Centre, which included the Wyvern Theatre, on the 5th November, 1971.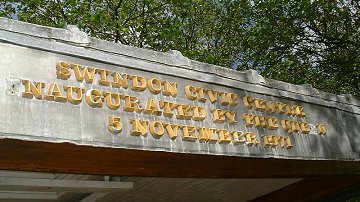 inaugurated as part of the Civic Centre in 1971

Unfortunately, it was a day marred by bad weather; the Queen thankful for the cover offered by the special platform erected to commemorate the occasion while she made a brief speech before regally announcing the Centre open.
Plus almost time for shopping at The Brunel

The next visit is very well remembered by the pupils and staff of Gorse Hill Infant School where the Queen took time on a whistle stop tour to open their new nursery on the 7th November, 1997.

"It was a fantastic day for everyone at the school," remarked the Headmistress at the time, Mrs Prisca DaCunha.

"Her Majesty was so kind and warm and it was an honour that the Borough choose us for the visit."
Opening Gorse Hill Nursery, 1997

A large picture of Her Majesty which our Monarch kindly signed while at the school, still hangs proudly in the main assembly hall to remind the pupils and staff of the memorable day.
Beforehand, Her Majesty took in a tour of the Brunel Shopping Centre where waiting wellwishers handed her flowers and briefly chatted.
The Queen ended visit ended with a Civic lunch at Lydiard House.

The Queen's last visit to Swindon occurred on the 26th October, 1998 when she visited the town to open the new £82 million pound Motorola factory at Groundwell.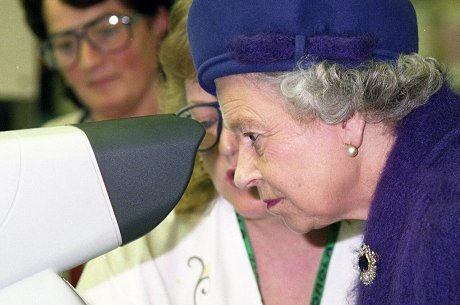 Inspecting Motorola, Swindon, 1998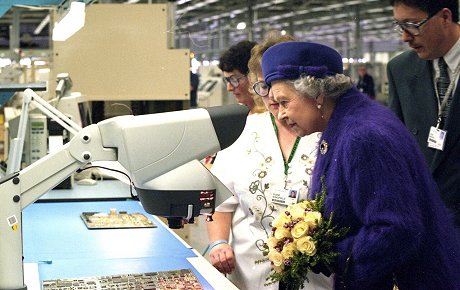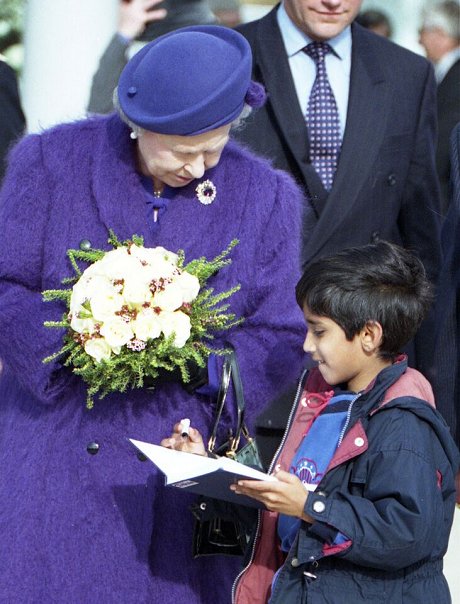 A Royal event that, at the time, truly encompassed how Swindon had developed from being the railway dominated town of her first in 1950 to being the base for new-world technology firms such as Motorola, Intel and Lucent as a new century beckoned.
Sadly, her 1998 appearance proved to be her last in Swindon, as the town wasn't included as a stop-off in the Queen's Jubilee tour of the UK in 2003 or her Platinum Jubilee of 2022.
King Charles III
When the people of Swindon can look forward to officially welcoming the new King, Charles III, we aren't sure, but with his former Wiltshire home in Tetbury not far away, we don't think it'll be long.

Most probably with a November date, of course.
SwindonWeb would like to thank Gorse Hill Infant School and Calyx Multimedia for their help in providing pictures for this feature.
Prince Philip In Swindon
With the sad news of his passing, we look back at his last visit to Swindon to officially open GWH & meet students at New College in 2003 - PHOTOS

09 April 2021

Diana in Swindon
We look back on the Princess's visits to town - both official & unofficial - WATCH VIDEO

30 August 2017

Ear To The Throne!
Prince George enjoys a day out at the Royal International Air Tattoo - SEE PICTURES

08 July 2016

First Class!
Deacon's Jewellers creates Limited Edition GWR pocket watch - WATCH VIDEO

Bravery Recognised
Proud evening as Swindon soldiers are awarded Operational Service Medals for Afganistan Tour - WATCH VIDEO

12 March 2014

Yummy Ma'am-my!
Fancy a memento of the Royal baby being born? Cute mugs now on sale at Deacon's Jewellers...

24 July 2013

The Duchess & Doctor Who!
Royalty opens new charity shop at Uplands School - and takes home Timelord memento - SEE PICTURES

25 April 2013

Radnor Street Remembrance
Swindon honours its war graves at much-neglected cemetry - GALLERY + PICS FROM OTHER REMEMBRANCE DAY CEREMONIES

11 November 2012

Strictly Poppies
Come Dancing stars perform at the opening of Remembrance Field at Lydiard Park - GALLERY

09 November 2012

Swindon's New Masterplan
Forward Swindon announce new regeneration plans for Swindon town centre - SWTV

05 September 2012

Even The Queen Was Invited
A look back at Swindon's last big regeneration project - and what happened when the money ran out...

07 August 2012

It's Time To Celebrate, Ma'am
STEAM museum and Deacon's launch special GWR pocket watch to mark the Queen's Jubilee year - WATCH VIDEO...

11 April 2012

Final Ride of Respect
Thousands of bikes turn out for last Mother's Day parade through Royal Wootton Bassett - GALLERY...

Wootton Bassett Rocks!
Local people unite to make charity single & video for military charities - GET INVOLVED - VIDEO FILMING THIS SUNDAY...

15 September 2011

Wyvern at 40!
Cheggers cuts the cake to celebrate Swindon theatre anniversary...

03 September 2011

Everyone A Hero
ARCHIVE: Wootton Bassett honours Lieutenant Daniel John Clack - the final repatriation...

18 August 2011

The Final Repat?
Emotional farewell in Wootton Bassett for Marine James Wright...

11 August 2011

A Right Royal Treat
Swindon celebrates Royal Wedding with street parties across the town...

29 April 2011

Ride of Respect
10,000 bikers ride through Wootton Bassett to show appreciation for fallen soldiers...

04 April 2011

A Mother Mourns
Emotional repatriation at Royal Wootton Bassett...

30 March 2011

Royal Tribute
Prince Harry opens Remembrance Field at Lydiard Park...

09 November 2010

The Railway Works
Celebrating Swindon175. A short introduction to the world's finest railway works. Founded this week in 1841....