RAF Blakehill
Cricklade airfield which played a crucial role in D-Day
See all our 'Swindon During D-Day' films here
The pictures below show the former RAF Blakehill Farm airfield, near Cricklade, on 06 June 2004 - exactly 60 years since it played such a massive part in the D-Day landings.

Once a hive of activity during the war years and until 1952, only a memorial to the base's crucial contribution and sacrifice during the Allied invasion and Arnhem operation, plus a couple of original buildings, remain.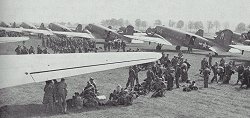 Crucial contribution:


planes prepare to take-off from
RAF Blakehill during WW2
During the Second World War there were more than 500 structures including aircraft hangars, barrack blocks and medical centres dispersed around the site and immediate countryside.
Unfortunately, some structures, such as the Second World War 'Blister' aircraft hangars and the control tower, are now classified as 'extinct'.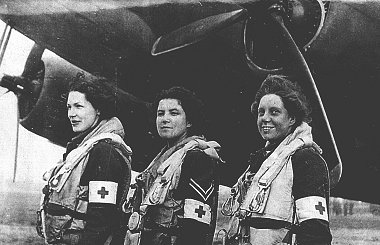 RAF nurse orderlies in front their Dakota arriving back
at RAF Blakehill Farm, near Cricklade, on 13 June 1944
with D-Day casualties
bound for Chiseldon hospital
pics courtesy of David Bailey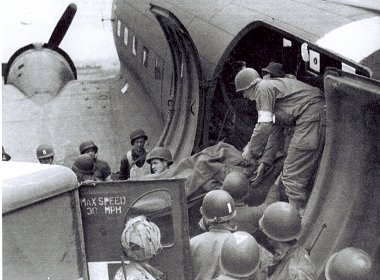 Blakehill was the base for two RAF squadrons and was one of the eight airfields from which planes flew directly to Normandy on the night of 5th June, 1944 when Dakotas towed glider troops aiming for Pegaus Bridge.
It was also to record two notable firsts in the coming days and months.
Blakehill-stationed nurses who looked after wounded soldiers on returning flights became the first female RAF aircrew to fly into the combat zone, while a Dakota from Blakehill's No. 233 Squadron became the first aircraft to land at a British-controlled airstrip in France after the invasion, touching down on 13th June.
A Bridge Too Far

In September 1944, the base was also used used to launch gliders carrying troops from the 1st Airborne Division (see plaque below) on their way to Arnhem for Operation Market Garden - the failed attempt to capture key bridges across the Rhine river.
More recently, RAF Blakehill Farm was used by GCHQ for a number of radio trials throughout the late 1970s and a 1960s Royal Observer Corps underground observation post, which is now owned by Wiltshire Wildlife Trust, is being considered as a bat haven.
These pictures were taken on 6 June 2004 - the 60th anniversary of D-Day.
More information on RAF Blakehill's history including a booklet for sale can be found at the Cricklade museum (see link below).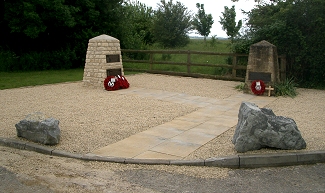 Memorial stones commemorating RAF Blakehill's
contribution during World War Two
| | |
| --- | --- |
| | |
More Blakehill Farm pictures
Swindon Bombing
70 years ago - 20 OCT 1940 - the day the Luftwaffe tragically started targeting Swindon...

A Bridge Too Far
Swindon's connection to Operation Market Garden, the biggest airborne invasion ever mounted - September 1944...

Chiseldon Camp
50 years on since the last soldiers left, we look back at the Swindon army base which helped win two world wars - and welcomed the first American GIs to Britain...