VE Day in Swindon
How Swindon celebrated the end of WW2 in Europe, 70 years ago
As parties go, it was probably the biggest and most eagerly awaited that Swindon had ever seen.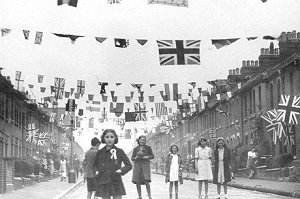 The greatest e-VE-r party:


Redcliffe Street, VE Day, 08 May 1945

© Josie Barrat
Seventy years ago, on 8 May 1945, this town celebrated along with a whole nation the end of World War Two.
It was a bloody conflict that had lasted six, almost intolerable, years and had ended in a victory that ultimately cost millions of lives.
So it was no wonder that when official confirmation came through of the German surrender, it signalled an explosion of joy unique in our history.

Revellers took to the streets in their droves to cheer, sing, dance and rejoice at the news that their ordeal was over. Bells peeling from churches all across Swindon could be heard for miles around.

And before anyone could say 'Knees Up Mother Brown', whole areas of Town were covered in bunting, flags and general merrymaking.
Many people organised street parties at astonishing speed, with tables and chairs, live music and what ever else they could lay their hands on.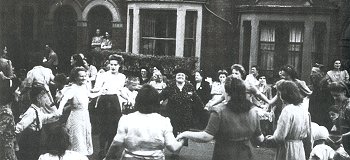 Dancing in the streets:

Swindonians let their hair down in Farnsby Street
All thoughts of rationing went out of the window as eggs, butter, flour and dried fruit were sooned pooled together to bake cakes and other treats.
Luxuries that had been stashed away during the war (alcohol, mainly) was also soon shown the light of day and used to toast 'The King', 'Winston Churchill' and 'Victory in Europe'.

"It was an amazing day," 84-year-old Swindonian Ernie Crompton told us. "One I'll never forget.

"Everyone was so happy. There was so much relief at knowing that the war was at an end. We all knew for months that things were going our way but when we finally heard Churchill on the radio, we all started hugging each other.
"I have to say that I don't much remember most of it after about 5 o'clock. I think I'd had a bit too much even by then!"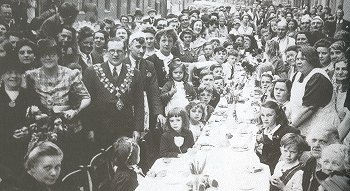 A day like no other:

The Mayor and Mayoress of Swindon Councillor Charles S.
Macpherson and Mrs. Phylliss Macpherson attend a street
One particular novelty that proved hugely popular were late-night bonfires - many with an effigee of Hitler burning on top for good measure.
Until VE Day they had been strictly forbidden because of the black-out laws and the threat of German bombers targeting the GWR Works, so those who had a chance lit up feverishly.

As it was, the country was already in the middle of double-summer time, where the clocks were put forward by 2 hours instead of just one so that the war effort could make more of the daylight.
That, and with pubs in Swindon being given special dispensation to open 'later than usual', meant that the celebrations lasted well into the night and the early hours of 9 May.
Even Swindon Police were surprised how the much the criminals stopped working to celebrate.
Only a small number of minor incidents were reported - the majority relating to people being 'drunk and disorderly'.

Gradually, however, the day's festivities grew to an end, and the atmosphere - although still lifted - drifted back to the normality associated with the era.

The following morning hangover gave thought to those who weren't around to enjoy the victory; the lost ones who weren't coming home and who had made the ultimate sacrifice in the bitter preceeding years.
The war in other parts of the world was also far from over, and many of Britain's troops were still in the east fighting the Japanese.
The country would have to wait until 14 August - VJ Day - before a total end to hostilities could be announced. And even then many soldiers didn't return home until a year or more later.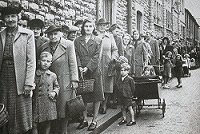 Back to reality:

Queuing for rations in Swindon
was a common sight right up to
After that, they still had to face rationing, unremitting hardship and the punishing working hours needed to rebuild the country - the dawn of a new post-war age that Swindon would benefit from more than probably any other town.

But for that one day - VE Day - none of that mattered. Swindon had survived the war.

It deserved a party.
70 Years On
Crowds gather in Swindon to mark the 70th anniversary of VJ Day - SEE PICTURES

17 August 2015

The Christmas Truce
You've probably seen the advert - but Captain Mervyn Richardson from Purton was really there...

15 November 2014

Swindon Wartime Weekend
Step back in time to the Second World War at the Swindon & Cricklade Railway - 13 & 14 SEPT

Marking The Start Of WW1
100 YEAR ANNIVERSARY: Schoolchildren gather in Wharf Green before 28 June - the day that sparked the Great War...

26 June 2014

D-DAY
Watch our films showing how Swindon played its part on the 6th June 1944 - WATCH VIDEOS

Bravery Recognised
Proud evening as Swindon soldiers are awarded Operational Service Medals for Afganistan Tour - WATCH VIDEO

12 March 2014

Field of Remembrance
Lydiard Park hosts the Royal British Legion's tribute to our brave Serviceman & women - 08-17 NOV

Radnor Street Remembrance
Swindon honours its war graves at much-neglected cemetry - GALLERY + PICS FROM OTHER REMEMBRANCE DAY CEREMONIES

11 November 2012

Strictly Poppies
Come Dancing stars perform at the opening of Remembrance Field at Lydiard Park - GALLERY

09 November 2012

A Right Royal Treat
Swindon celebrates Royal Wedding with street parties across the town...

29 April 2011

Swindon Bombing
70 years ago - 20 OCT 1940 - the day the Luftwaffe tragically started targeting Swindon...

Swindon on D-Day
D-Day: Swindon wakes up to the sound of history in the making...

The Yanks are Coming!...
Beer, Bicycles & Blackouts - Memories of the staff from the US Army's 203rd General Hospital reveal life in Swindon in the run-up to D-Day...

Alan Fowler
The true and tragic story of Swindon Town's Normandy hero revealed...

05 June 2009

Chiseldon Camp
50 years on since the last soldiers left, we look back at the Swindon army base which helped win two world wars - and welcomed the first American GIs to Britain...

Life's Real Heroes
100 YEAR ANNIVERSARY: We pay tribute to Swindon's heroes of the Somme + EVENTS

Swindon and World War One
Lest We Forget 99 Years On: our four-part chronicle of the role Swindon people played in the Great War...