Life's Real Heroes
100 YEAR ANNIVERSARY: Swindon's heroes of the Somme
When we sit down to witness Rooney, Kane, Stirling et al playing footy for their Queen and country, it's nearly always a tense, 90 minute battle of hard work, sweat and sometimes tears.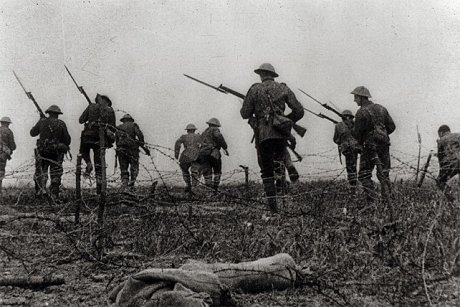 54,740 died on the first day of the Somme

But rewind the clock to 1st July 1916 and those 90 minutes seem pitiful in comparison.

For on that horrific day began the battle of the Somme, arguably one of the bloodiest and most idiotic days in our history.
A truly dark hour that is commemorated annually in an act of solemn remembrance.

Not one of those who survived the slaughter to live - and fight - another day are still here to tell the terrible tale of life in the trenches and being forced to go 'over the top' - the majority to near certain death.

It's a sorry chapter that many of us are probably blissfully unaware of.
World War what? is a common comment when even WW2 is mentioned these days in schools and colleges.
But one local historian is determined to keep the memory of the Somme and the experiences of the brave soldiers from Swindon who took part fresh in the memory for everyone to take in and appreciate.

"It's almost impossible to comprehend their sacrifice," Mark Sutton told us, author of 'Tell Them Of Us: a history of Swindon's Son's of the Great War'.

"Those who returned were left with mental scars to add to their physical ones in an era when it was classed as a weakness for men to cry or show emotion - some were even shot for it.
"The true horror story of what went on was very rarely told. So much suffering was endured behind closed doors in the years after the war had ended."

On Friday, 1st July 2016, the Prime Minister David Cameron will commemorate the 100th anniversary of the first day of the battle by laying a wreath at the Thiepval Somme Memorial, located at the heart of the battlefield that lies mid-way between Calais and Paris.

More than one hundred of Swindon's finest - 95% of whom were employees of the GWR Works - are inscribed on that memorial. And they are the ones who were never found.
The luckless souls with no known grave.
As Mark Sutton chillingly summed up:
"The soldiers had no choice. There really was no way out."
So when you're next watching Kane and co. parade around the pitch, give a thought to the men who truly know what the words 'hero' and 'blood and guts' really mean.
The Swindon Sons Who Fell on 01 July 1916
Private Arthur Reginald Bryant, S/No 26561, Age 19
103rd Company, Machine Gun Corps
Son of James Thomas & Sarah Ann Bryant
Private W J Tanner, S/No 22649, Age 19
No1 Infantry Works Company, Wiltshire Regt
Son of E & Ada Tanner
Private Albert F J Woodman, S/No 4857, Age 20
A Company, 1st/8th Bn Royal Warwickshire Regt
Son of Frederick & Mary Jane Woodman
Private Harry Lovesey, S/No 19737, Age 21
2nd Battalion Royal Berkshire Regt
Son of Herbert & Mary Lovesey
Private Frederick C Wasley, S/No 2293, Age 21
2nd/8th Bn. Royal Warwickshire Regt
Son of Frederick William & Ellen Wasley
Private Jesse Haines, S/No 3/4915, Age 31
1st Battalion Hampshire Regiment
Son of Phyllis & Frederick Haines
Sergeant Benjamin Broadhurst, S/No 11243
16th Battalion Lancashire Fusiliers
Age unknown, no further details
Somme Commemoration Events in Swindon
Candlelit Vigil at St Augustine's, Rodbourne


Thursday 30th June 2016
A candlelit vigil on the eve of the Centenary of the start of the Battle of the Somme with music, poetry material and readings to reflect on.
Friday, 01 July 2016
10.45am
An act of remembrance service will be held at 10.45am at the war memorial in Regent Street, with a two-minute silence at 11.00am.
British Legion Coffee Morning
Friday, 01 July 2016
At the British Legion office in Regent Street (just down from the cenotaph) from 10.30am to 1pm.
70 Years On
Crowds gather in Swindon to mark the 70th anniversary of VJ Day - SEE PICTURES

17 August 2015

The Christmas Truce
You've probably seen the advert - but Captain Mervyn Richardson from Purton was really there...

15 November 2014

Swindon Wartime Weekend
Step back in time to the Second World War at the Swindon & Cricklade Railway - 13 & 14 SEPT

Marking The Start Of WW1
100 YEAR ANNIVERSARY: Schoolchildren gather in Wharf Green before 28 June - the day that sparked the Great War...

26 June 2014

D-DAY
75th ANNIVERSARY: Watch our films showing how Swindon played its part on the 6th June 1944 - WATCH VIDEOS

Bravery Recognised
Proud evening as Swindon soldiers are awarded Operational Service Medals for Afganistan Tour - WATCH VIDEO

12 March 2014

Field of Remembrance
Lydiard Park hosts the Royal British Legion's tribute to our brave Serviceman & women - 08-17 NOV

Radnor Street Remembrance
Swindon honours its war graves at much-neglected cemetry - GALLERY + PICS FROM OTHER REMEMBRANCE DAY CEREMONIES

11 November 2012

Strictly Poppies
Come Dancing stars perform at the opening of Remembrance Field at Lydiard Park - GALLERY

09 November 2012

Swindon Bombing
70 years ago - 20 OCT 1940 - the day the Luftwaffe tragically started targeting Swindon...

Chiseldon Camp
50 years on since the last soldiers left, we look back at the Swindon army base which helped win two world wars - and welcomed the first American GIs to Britain...

Swindon and World War One
Lest We Forget 101 Years On: our 4-part chronicle of the role Swindon people played in the Great War #therebutnotthere

VE Day in Swindon
The greatest e-VE-r party. How Swindon celebrated the end of WW2 in Europe - 74 YEARS AGO...