BUSES, TRAINS & TAXIS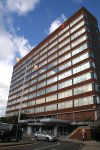 Swindon train station is situated in Station Road, about 5 minutes walk from the town centre, and 2 minutes walk to Swindon Bus Station.
There is a busy taxi rank at the entrance.
Trains to London are frequent and take approx. 1 hour. The station also serves Bristol, Chippenham and Bath Spa.
Located in the town centre, just off Fleming Way. 2 minutes walk to Swindon Train Station.
Served by Thamesdown Transport and Stagecoach, as well as National Express.
Swindon town centre and Old Town are served by two park and ride schemes - one in south Swindon, one in north Swindon.
The buses run every 12 minutes.
The major taxi rank in Swindon town centre is at the Train Station (see above).
Taxis also tend to wait in Regents Circus opposite the main library.
The major taxi firm in Swindon is V Cars.