Date added: 30 July 2008
Pump it!
We've found the cheapest petrol prices around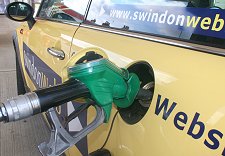 beat the soaring petrol prices
Everybody's feeling the pinch -and with petrol prices soaring, filling up is something we've all come to dread.
But fear not, for we've found a helping hand.
Surfing the internet this morning, we came across a website dedicated to petrol prices in the UK.
PetrolPrices.com can tell you where to find the cheapest fuel in your area, simply by entering your postcode - and better still, they will email you regular updates with price changes.
So click on and fill up!
Panic at the pumps?
Not anymore. Tanker driver deal means deliveries are imminent...

13 June 2008