Date added: 08 June 2009
Swindon Parachallenge 2009
Paralympian Gold Medalist Athlete, Ben Rushgrove shows his support for Swindon Parachallenge
The celebration of sport across the town continued this weekend with Swindon Parachallenge 2009.
A whole host of sports were on offer including Powerchair football, Tennis, frisbee golf and Climbing, and teams from as far afield as Nottingham, Cornwall and London came to take part.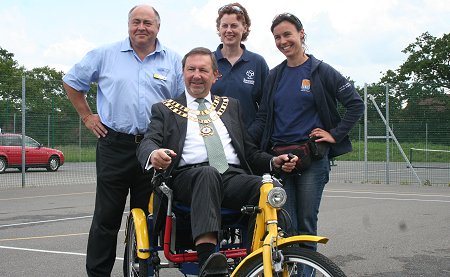 Joining in the fun:


the Swindon Mayor, David Wren joins
in the Swindon Parachallenge 2009
The event was also attended by Paralympian Athlete, Ben Rushgrove, who recently won gold at the Paralympic World Cup in Manchester last month.
The 100m runner was around to promote the event and help introduce disabled people to a number of sports.
Organised by Swindon Borough Council and sponsored by Nationwide, the event helps to raise awareness of the facilities Swindon has to offer disabled people.
"Nationwide Building Society is proud to be supporting the Swindon Parachallenge event this year," commented Clare Whyte, from Nationwide.
"It's a great opportunity to encourage sporting activities across the borough."
FA Charter Award
The day also saw the Wiltshire FA present the local football team, Swindon Rockets, with a Charter Standard award – the first to be offered this award in the country.
"We are ahead in disability sport," said Ben Humphrey, Swindon Borough Council's Ability Sports Development Officer.
"We are one of the first clubs to get a Charter standard, and we are actually teaching th FA a lot of how it is done, so to be part of that is amazing."

Swindon Parachallenge 2009 - 08/06/2009
The Road To Rio!
Swindon Paralympian tennis star Louise Hunt given Olympics boost....

13 January 2016

Fit for Business
A free event that every Swindon company should get involved in - TONIGHT...

Flying high!
Arval employee to represent UK at World Air Games...

21 August 2008