Date added: 16 July 2009
Hair today, gone tomorrow
Swindon barber retires after 40 years
Wayne Hayward finally shut up shop today as a barber – after giving an estimated half a million haircuts to Swindon men.
Wayne, 63, is taking early retirement now the lease has run out on his Victoria Road shop, and although he has thoroughly enjoyed his life as a traditional barber, he is looking forward to the unusual experience of having Saturdays off.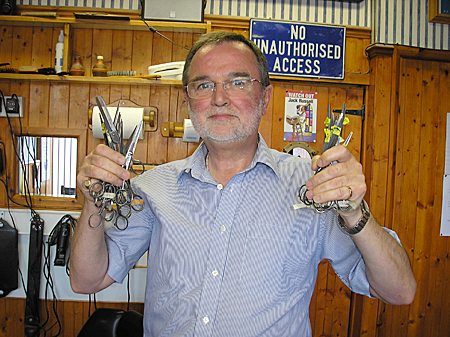 Hanging up the scissors:
Wayne Hayward at this Victoria Road shop
on his last day 28 July 2009
"I started working on Saturdays as a barber before I left school, and I've never really had a Saturday off since, except when I've been on holiday.
"So I must say I'm looking forward to that, because there are lots of things I haven't been able to do.
"For instance, about four years ago I took up carving walking sticks, and I'm intending to take some along to craft shows after I retire, which has been impossible before, because they are often held on Saturdays."
When Wayne opened the shop, in the shadow of the old Swindon College, on December 1, 1969, it had already been a barber's for at least 40 years.
He started out as a typical men's barber's of the era and has kept it traditional ever since.
Shops like his have now become what he calls "one of the last male strongholds", although there have been changes over the years.
"In the old days, lots of people would have Brylcreem on their hair, but if they have anything these days, it's usually gel or wax. And almost everybody comes for a haircut these days, rather than anything else.
"I was taught to use a cut-throat razor, but I've never used one in the shop."
An aspect that has survived is customers turning up and waiting their turn, rather than making appointments.
"To be honest," admits Wayne, "if I was starting out again now, I would introduce appointments because it lets you regulate the business more."
It's one of his few regrets in a job he says he's always enjoyed.
"I'm a people person and I enjoy talking to people, so I am going to miss that.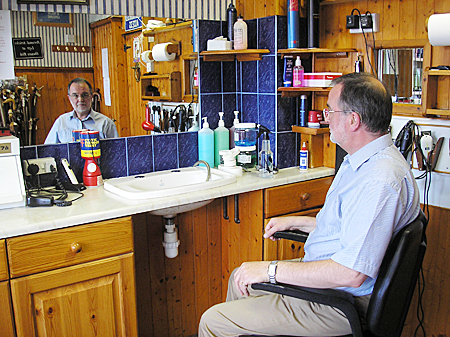 Wayne sees it from the customer's perspective
"I had a chap in here the other day who said he came for a haircut on the second day the shop was open, which is very nice. Some people come every week."
He's even been invited to customers' weddings – and a funeral.
"When I was cutting one chap's hair, he told me he was dying, and asked if I would go to his funeral. Ten days later, his son came in to say he had died, and I was proud to go to the funeral."
Incidents like that, says Wayne, show how most people are friendly and well-meaning – something that is also borne out in the fact that in nearly 40 years of trading, only one person has failed to pay.
"Sometimes people have a haircut and then realise they've come with no money.
"They will sometimes try to leave their watch as security, but I tell them it's not a problem. I tell them to drop the money in when they're next passing, and there's no need to make a special journey."
Only one of those still owes him the price of a haircut (currently £9 for a standard gents' trim).
More worrying is customers being taken ill in the shop.
"Three people have had heart attacks in here, and sadly one died instantly. And another time a pregnant lady's waters broke. She was here with her little boy."
Not surprisingly, ladies are comparatively rare visitors to the shop, but they are a key part of the business.
"Women are very good for business because often men only come for a haircut because their wives have told them it's about time. Otherwise, they wouldn't come so often."
Most women stop short of supervising their husband's haircut - but not all.
In one memorable incident, a few years ago, one lady brought her husband back, an hour after he'd had a haircut, to complain that Wayne hadn't cut enough off.
"I said that was fine, I would take off some more, but in future would she either come with him and explain how much to take off – or send a note!"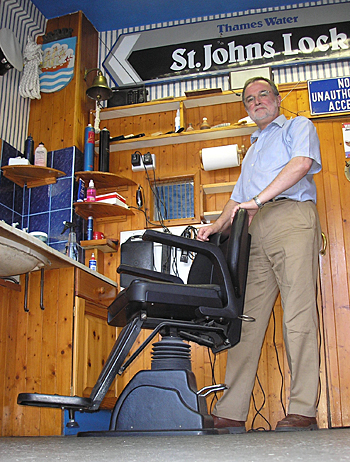 Wayne has cut nearly half a million haircuts
It's one of the few complaints Wayne has ever had. He's always careful to make sure the customer gets what he asks for, and double-checks if they request anything radical.
"If they ask for a really short cut, I offer to do it in stages, so they can see what it's like, and it doesn't come as too much of a shock."
But being a barber is about much more than hairdressing. Some men see the barber's chair as a kind of confessional.
"I could destroy a few marriages with the things people have told me over the years," laughed Wayne. "What amazes me is they'll still say it, even though there might be five other people waiting for a cut. I think they see me as a bit of a counsellor, and are quite prepared to tell me intimate details in front of the rest of the shop."
Most people like to talk about holidays, jobs and hobbies, but some subjects are out of bounds.
"I was taught never to discuss religion, and I don't talk politics much, unless it's to agree with people. And it's no good asking me about football, either, as I know nothing about it and I'm not into sports.
"I always try to get a conversation going, but sometimes people don't want to say anything. One day a chap told me: 'You're bloody nosey!' and I knew it was time to shut up!"
But if you make the effort to talk to Wayne, he remembers what you say – and sees it as a key skill for building customer relations.
"People appreciate it when you can remember what they said the last time they were in, so I try hard, and I have a pretty good memory."
Soon his career will also be a memory – but a happy one, and he's already looking forward to retirement – and not just because he's about to experience Saturdays outside the shop for the first time.
Stick carving is the perfect hobby for winding down, and he's already a member of the British Stick Makers' Guild. He says it's "very relaxing, listening to opera and whittling away", but membership of a local rambling club is also on the cards, along with travel, with a long trip to New Zealand planned for 2010.
Nobody can say he hasn't earned it.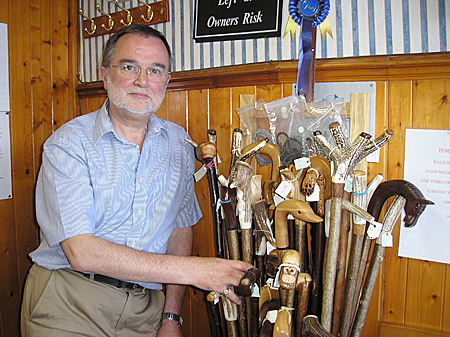 Wayne is swapping cutting hair for carving walking sticks

Cutting hair is hard work. Not only has he been on his feet all day for 40 years, but Wayne has also had operations on both elbows and both hands because of repetitive strain injury – and when you do the figures, you can understand why.

"One day I finished cutting a customer's hair and he said to me: 'Did you know that during that haircut, you clicked your scissors 287 times?' He had been sitting there counting them."

The haircutting won't stop entirely, because there will always be one customer who refuses to go to an alternative hairdresser – himself. Wayne cuts his own hair every 10 days, and says it's 39 years since anybody else cut it.

Otherwise, the time has come to put down those scissors.

"I have reduced my hours since suffering a heart attack in 2006, and although I always intended to stay until I was 65, the lease is expiring so it seems like a good time to retire.

"I still like coming to work and always have, but now seems like the right time."



Hairdressing chairs can cost anything up to £4,000 – but last for years. Wayne has had three different chairs in his shop. The original was replaced in the 1980s by an old-style and expensive but secondhand one, and for the last seven or eight years he's had a new one that cost him £900.

But the most expensive items over the years have been scissors.
"I spend £60-£70 on each pair," said Wayne, "but you can pay up to £600 for one pair of scissors.

"I have many on the go at any one time. They can last for three or four weeks or two or three months before they need sharpening. When I've got 12 to 18 that need sharpening, I send them off to specialist sharpeners."

Different scissors are required for different hair. Some people have fine hair, while others have much thicker hair that requires heavier-duty scissors.


Barbers/stylists who work with others in a shop tend to cut each other's hair, rather than their own. So you should always try to have your hair cut or styled by the one who has the worst hair, not the best!
The shop has been a barber's for 80 years
For information about leasing the premises, see
http://commercial.carterjonas.co.uk