Rikki Hunt
From markets to millions - Rikki Hunt reveals all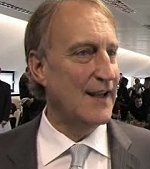 Rikki Hunt is the kind of businessman people either envy or admire.
His CV is as varied as they come - from fuel to fashion - and he's succeeded in everything he's set out to do.
His business achievements include:
-
Chairman
- Swindon Strategic Economic Partnership (SSEP)
- Director and Share Holder
- JR Property (Liverpool) Ltd
- Director and Share Holder

- JR Property (Manchester) Ltd
-

Executive Chairman

- Nine Retail Ltd
-

Director and Chairman

- Swindon Town Football Club
-
Non-Executive Chairman
- Swindon Property Group Ltd
-
Owner
- Kestrel Consulting Ltd
-
Chairman/CEO
- Petrol Express Ltd
-
Managing Director
- Burmah Petroluem Fuels Ltd
-
Marketing Director
- Elf Oil
So you'll find it hard to believe where Rikki started out in the world...

Rikki was expelled from school aged just 15, when he embarked on his first job as a stall trader at Kirkby market in Liverpool.
He sold: "cheese, eggs, bacon, anything we could get our hands on!"
Travelling across the North-West with the market, Rikki was working 60 hours a week, and earning just £10 for his efforts.
CAREER AMBITION: £1 an hour
As 15-year-old Rikki was walking home from the market in the pouring rain, after a long day's slog earning 16 pence an hour, he devised a plan that would kick-start his ambitious career.
He vowed that one day he would earn £1 for every hour he worked.
Rikki is the kind of businessman who sets out with a goal, and puts his all in to achieving it.
Describing his work ethos, he says: "Success is based on the strength of your integrity.
"Do what you say you will."
Burmah Petroleum Fuels Ltd
In 1991 aged just 36, Rikki became Managing Director of Burmah
Petroleum Fuels Ltd making him the youngest ever MD of a British petroleum company.
During the four years he spent in the post, Rikki helped achieve a turnaround of more than £1 billion a year, and also helped the company move from third in the industry, to number one.
BUSINESS TODAY: Skills are essential
Starting work at 15 meant Rikki didn't achieve any formal qualifications, but he believes that qualifications are key in today's work environment.
"When I started out there were more jobs than people, so it was easier to get on. Nowadays it's the other way round. The market is tough.
"University is a good thing at this moment. With more jobs than people, having skills in the right area is essential.
"Now people need a USP (unique selling point) just to get to the interview. Without a qualification, it's not easy to get in to business."
FINAL THOUGHT: "Chill out"

"I tell my kids to chill out. You're going to work until you're 70, so you might as well take the time out now to enjoy yourself.
"I've been in work since I was 15, and I'll be in it 'til I'm 100. That's just me."