Date added: 18 March 2011
Professional Job Seeking Success
Jackie Kerr Recruitment in partnership with Job Centre Plus
Jackie Kerr Recruitment had an evening of celebration, following another successful year finding new roles for unemployed professionals in Swindon.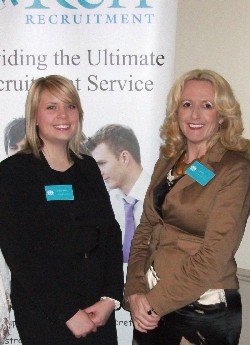 Jackie Kerr (r) alongside recruitment
consultant Charlotte Hillier
Along with local businesses, Job Seekers and Professionals who had found work by attending the Jackie Kerr Seminars joined together to network at The Highworth Hotel.
Jackie Kerr has been working in partnership with the DWP/Job Centre Plus helping unemployed Professionals back into the workplace since July 2009 and many of these Professionals attended the evening along with local employers and representatives of the Swindon Job Centre to share their success stories.
Jackie invited Paul Haines to speak and give his experience of attending the Seminar'I met Jackie not knowing what to expect, Jackie and her team went out of their way to assist me with my CV, job applications and interviews.
"Before meeting Jackie I had been unemployed for quite a while but through the help of herself and her team I have managed to secure a permanent position. She is such a knowledgeable and motivational individual, she talked me through all my career options. I can't thank her and her team enough.'
Over 800 Job Seeking Professionals
Gerry Reilly, a local IFA, spoke about life planning and how to make the most of living now.
Eole Pieri from 'Absolute Freedom' also gave a talk, which was thought provoking and inspirational. She made attendees all think about embracing change, how we approach it and what we were looking for moving forward on life's path
Jackie and her team have assisted over 800 Job Seeking Professionals in their quest to find the ultimate job and in many cases start their own businesses.
The Seminar covers areas including:
· Career Advice and Changing Direction
Networking to find that ideal job
CV Writing
Interview technique and role play
Making contact with the future employer
Employment Agencies – how to get the best from them
Job Applications
Motivation
Closure to get that ultimate job offer
Charlotte Hillier, Recruitment Consultant, said " The evening has brought together our clients to celebrate our most successful and busiest year, with another busy year planned ahead."
Jackie Kerr said "The evening has been such a huge success, to help job seekers and local businesses. We will be holding another event later in 2011."
Jackie is also pleased to announce Jackie Kerr Recruitment is a finalist in the Wiltshire Business Awards.

If you are interested in attending a Jackie Kerr Seminar or are looking for that ideal position please call Jackie Kerr Recruitment on 01793-762026 or visit their website www.jackiekerrrecruitment.com
Finding The Right People
Are you asking the right questions when you interview a potential employee? An in-depth guide with Jackie Kerr...

Working In...
Everything you need to know about working in and around Swindon...