Date added: 02 July 2009
Of mice and men - a Swindon jobseeker's Disney experience
Swindon Talent Pool - spotlight on Sam Butt
If you're tired of working for a Mickey Mouse outfit, maybe it's time you worked for Mickey Mouse.
And you should meet Sam Butt.
The former Dorcan Technology College and New College student has made a real success of being on the payroll of one the world's greatest but most demanding companies.
Sam, 22, returned to his home in Nythe in April, after completing a year-long contract with Disney, working in the UK section of Epcot's World Showcase in Florida.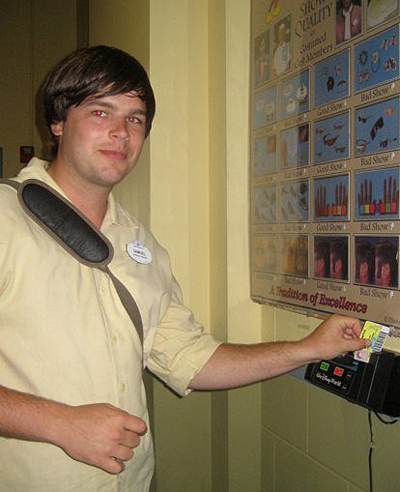 Sam Butt clocks on for Disney in Florida during his year
working in the States
Now registered as a jobseeker on SwindonWeb's innovative careers website, Swindon Talent Pool, Sam says he is full of confidence and more independent – and all despite his time with Disney being the first time he had lived away from home.
He is a shining example of how qualifications are not the be-all-and-end-all of jobhunting, and also how some people's CVs contain hidden gems that make the jobseeker as especially employable.
Now he is hoping to attract the attention of a local employer who recognises the value of his Disney experience and can help him kickstart the rest of his career.
Disney is renowned for its attention to detail and the demands it puts on its workers, who are always called 'cast members', regardless of their role (visitors are always 'guests'). There are very strict rules that all cast members must adhere to – even on their days off.
Sam not only went the distance and completed his contract with them, but rose to all the challenges, and made progress while on Mickey's payroll.

"I saw a lot of other workers come and go while I was there," said Sam, "but I was determined to complete the year, and ended up loving every minute of it.

"When you first arrive, you get a few days' training, including a whole day called 'Traditions' when you get to learn everything about Disney and what it stands for. You also get very thorough customer service training.

"You are on a three-month trial at first, but then you can take on different roles. I progressed to being a waiter, which meant having to learn more and pass a tough test.

"There are very strict targets about serving tables and keeping guests happy, which you have to achieve at all times."

Whatever job you do for Disney, you must remember to smile; you mustn't lean on things; and you have to have 'the Disney look' with no hair over your ears or on your collar. Cast members aren't even allowed to be seen eating or drinking.

"If you point to show somebody the way, you must do it with your whole hand rather than one finger, because in some countries that's considered rude. I still do that now, when I point to things. There is a lot to remember, but you soon get used to it."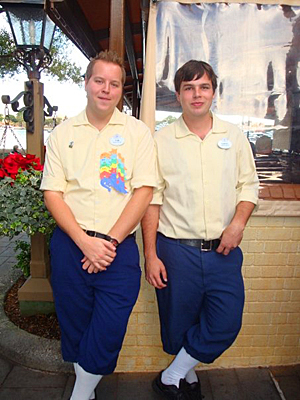 Sam and fellow cast member,
ready for work


If it sounds like working for Disney contrains individuality, Sam is quick to point out that the opposite is true. The Disney philosophy encourages people to think for themselves, with cast members expected to be pro-active and creative.

"If you get a time when there isn't much work to do, you are expected to go out and interact with guests and start conversations. Where I worked, we were expected to go out and organise games of hopscotch for guests.

"I also got children interested by chalking flags on the pavement.

"It's a bit scary at first and you don't know whether it's going to work, but it usually does, and it's great experience.

"Lots of Americans loved the UK section of the World Showcase, especially the pub where I worked, called the Rose and Crown. Some of them would spend all day there because they loved the atmosphere, and others tried to get you to say 'Bloody' in an English accent, because they loved hearing us say it! But, of course, you aren't allowed to swear."
Skills and experience

The rewards for meeting Disney's high standards – apart from being able to cite them as a previous employer on your CV – include good pay, free entry to theme parks during time off, the chance to make up to $300 a day in tips as a waiter, and opportunities to make lifelong friends, thanks to Disney organising accommodation for overseas cast members, just outside Walt Disney World.

"There's a great camaraderie between cast members, and between different nationalities. I made friends with people from Mexico, Canada, Japan, Norway and France, and I still get emails from one of my managers. I even met my girlfriend there."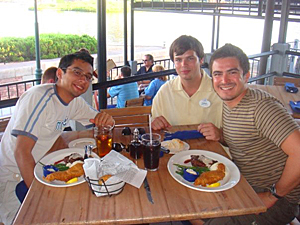 Taking a break with other 'cast members'
The hours are good, too, with shifts of six hours or less for waiters, two days off a week, and the chance to swap shifts to create enough extra time for holidays.
Sam and his girlfriend arranged a trip to California, where they naturally visited Disneyland (for free) and stayed in a top Disney hotel (for half price).
His US work permit now expired, Sam is reconciled to finding less glamorous but longer-term work closer to home, and has acquired the qualities necessary to get stuck into the rest of his career. Thanks to Disney, he's confident, outgoing, sensible, practical, easy to get on with, and says he's more independent.
He's raring to go back into full-time employment, and hoping to get a break in catering or an office environment - and registering on Swindon Talent Pool has given him the opportunity to get the message to employers that he has passed the Disney test with flying colours.
"Working for Disney is the best thing I've ever done," he says, but don't take his word for it.
If anybody asks, a big mouse told you.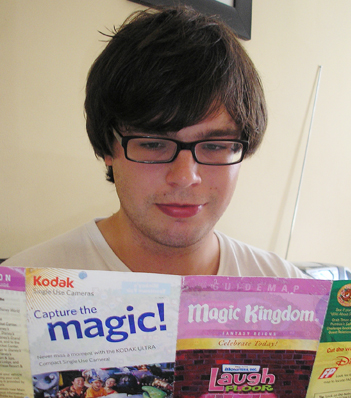 Sam, back at home in Swindon
Dipping into the Swindon Talent Pool
Swindon Talent Pool has turned the recruitment process on its head, to the mutual benefit of jobseekers and employers.
By allowing would-be employees to register their details and upload their CVs, it puts people first, alerting employers to jobseekers' qualities, rather than waiting for individuals to respond to specific vacancies.
This provides a unique shop window for the qualities of people like Sam, which might otherwise be lost in the process of filling a tricky vacancy. Employers simply register their details to gain access to details of the talent in the pool.
Click below to register and tell local businesses about your skills
Register here to gain access to the Swindon Talent Pool and search the hundreds of skill profiles already registered

Sam got his job at Disney after spotting a vacancy on Yummy Jobs, a website that specialises in "the tastiest hospitality job opportunities overseas", including the Disney International College Programs and the Walt Disney World International Programs, which Sam completed.
He passed a telephone interview and was then invited to a face-to-face interview at Disney's UK headquarters in London.
See www.yummyjobs.com for details.