Date added: 26 July 2009
Follow that car - life after Formula One
Swindon Talent Pool - spotlight on Andrew Smith
If modesty was a crime, Andrew Smith would need to get himself a good lawyer.
Five minutes in his company is enough to convince you he's an honest, unassuming, down-to-earth kind of bloke, but if he also gives you the impression he's got nothing to shout about, don't be fooled.
You should see some of the names on his CV.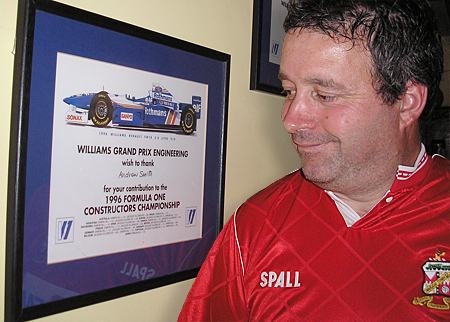 Andrew Smith with one of the certificates recognising his work on Williams F1 World Championship-winning cars
Not only has this motor industry CAD design expert worked in Formula One, but it was for Williams.
And not the Williams team that is currently struggling to keep up with Jensen Button, either, but the one that, for instance, propelled Damon Hill to the World Championship in 1996. Three appropriately modest certificates on his lounge wall confirm that Hill's was one of three different World Championship-winning F1 cars that Andrew helped develop.
"I also worked on two cars that competed in the Le Mans 24-Hour," he adds, almost apologising for the fact that the first was retired after four hours, before adding that the second ended up winning the legendary race.
"I must admit that I had a tear in my eye when that car took the chequered flag. Only a week before, we'd heard that the team wouldn't be racing the following year and we'd be out of a job, so we had mixed emotions."
That's the nature of the business. Williams is the only 'permanent' job Andrew has had in the motor industry after completing an apprenticeship at Cowley, the rest of his work being on ad-hoc contracts, including spells in key American and German development centres and, most recently, two and a half years with Land Rover.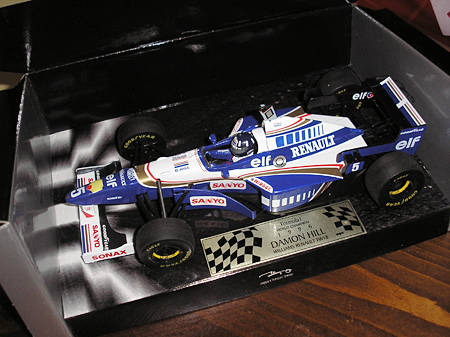 a scale model of Damon Hill's 1996 World Championship-winning car. Andrew Smith worked on half-size models of the car during its development
His speciality was turning the ideas of top-notch aerodynamicists – each F1 team has one - into 3D computer models, which in turn became half-scale working models of racing cars.
Ask him which bits of Damon Hill's car he worked on, and you'll get an impressive answer.
"All the body parts. These days, teams have many more people doing what I did, but back then I was the only one at Williams, so I worked on every surface. My computer 'drawings' were used to form the half-size model that went into the wind tunnel. Once that was complete, it was up to another team to turn the model into a real car, but the shape of the shell didn't change after our model was finished."
All this is said with his feet firmly on the ground, and it's obvious he's always been that way, being too interested in doing a good job to dwell long on the glamour.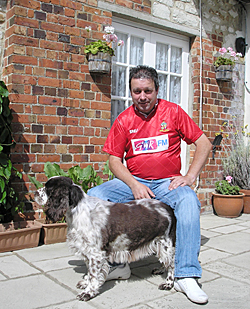 Andrew Smith at home
"To be honest," he says, "working in F1 isn't so different from any other job in the motor industry. The only difference is that if an F1 team wants a design tomorrow, it needs to be finished tomorrow. It can't wait. So, while you aren't necessarily working to a higher standard, you have to work quickly and accurately while maintaining a high standard.
"Sometimes, we would be working on a new design on Monday and the car would be on the track the following Monday."

Now in his mid-forties, Andrew is one of the many victims of a recession that has hit the world motor industry more than any other, and although he says he would like to return to the Formula One scene, he is realistic enough to accept that that's probably not going to happen, especially in the short term.

He's been out of racing for a few years, including a complete break from motoring when he became a publican with his partner. Now Andrew suspects the business, which is fast-moving in more ways than one, has left him too far behind.

So what's next?

He says he enrolled for the Swindon Talent Pool because he likes the idea of a place where potential employees get a chance to put themselves in the shop window. And he's grateful for the chance to dispel the myth that people like him are either over-qualified for some jobs or – even worse – somehow consider most jobs to be beneath them, and therefore liable to lose interest.

"I've been out of work for a while now," he explains, "but I like to be busy, so I'll take anything. I'm not afraid of hard work and I enjoy things like gardening, so I'm open to offers.

"I'd be happy to work in any industry, and if I was offered something local now, I'd take it."

Dipping into the Swindon Talent Pool
Swindon Talent Pool has turned the recruitment process on its head, to the mutual benefit of jobseekers and employers.
By allowing would-be employees to register their details and upload their CVs, it puts people first, alerting employers to jobseekers' qualities, rather than waiting for individuals to respond to specific vacancies.
This provides a unique shop window for the qualities of people like Sam, which might otherwise be lost in the process of filling a tricky vacancy. Employers simply register their details to gain access to details of the talent in the pool.
Click below to register and tell local businesses about your skills
Register here to gain access to the Swindon Talent Pool and search the hundreds of skill profiles already registered