My First Job: Chris Hull
From bingo calling to sponsoring England - Nationwide's Chris Hull reveals all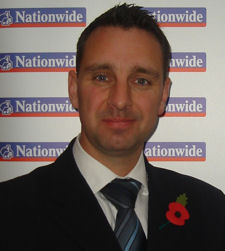 Chris Hull is Sponsorship Controller at Nationwide Building Society, and has worked in sponsorship, the media and football for 20 years.
His career is one that most young boys dream of, having worked with some of the biggest names in football, including: Keegan, Capello, Eriksson, Beckham and Rooney.
He was Head of Communications at The Football League until 1999, and now leads the sponsorship operation at Nationwide, where he has been a loyal employee for 10 years.
He has appeared on many media platforms: BBC Radio Five Live, Sky TV and Talksport.
Outside of the office, Chris' passion for football continues, as a big supporter of his home town football club Blackpool FC, and former Class One referee having officiated at football's semi-professional level.
FIRST JOB: Bears and bingo

As a 13 year old I stuffed toy teddy bears in a factory for the golden mile and stacked shelves. Between 14-16 years old, I was a bingo caller across from the South Pier in Blackpool in the holidays, it was great fun.
My first 'proper' job was Assistant Press Officer at The Football League.
After tax less than £100 per week (Bingo paid much more - double time and big bonuses at weekends, during the lights and summer!)
CAREER AMBITION: Sport, sport, sport
To become a leader within the sports industry.
Chris' work ethic comes from his mum and dad who worked day and night to provide the best working class childhood.
He describes his work ethos in three words: enthusiasm, perseverance and loyalty.
BIGGEST ACHIEVEMENT: Customer rewards
Chris prides himself on being passionate about civic and community pride.
He feels privileged to have been able to pass back once in a lifetime opportunities and top sporting and music event tickets to over 20,000 customers and employees in his ten years at Nationwide.
Chris says: "the smiles, positivity and warmth it creates for the brand is priceless and incredibly rewarding."
When it comes to facts and figures, he is proud to have secured the highest ever figures for Nationwide's association with football and the England team and industry high levels of cut through, respect and innovation.
Having worked his way up from a working-class childhood, Chris has learnt how essential it is to give consumers what they want and need.
He also believes that personal attributes will help you more than any form of education.
"Education and talent, although important, are not always enough. Persistence, hard work, passion and application will overcome most things."
"Remember the customer is more empowered today than ever before so always be honest, honourable and transparent - continually offering better and unparalleled personalised service than the rest. Also the need to challenge those who would not have you get out of bed in the morning for the risk of falling over a cat and under a subsequent bus!
"There are too many people in the World who prefer to say 'no' because it's easier. Feel passionate about whatever it is you do and resist negativity at all costs."
FINAL THOUGHT: Get your hands dirty

"No role is beneath you, prepare to get your hands dirty, get the job done whatever it takes and don't expect a free or easy ride.
"Not everyone will always share your vision and there will be knocks, diversions and distractions along the journey...but it is essential to never lose sight or the desire of achieving your ultimate goal.
"Most importantly, make sure you have fun along the way...and don't take yourself too seriously."