Date added: 16 January 2009
Extended shutdown at Honda
Swindon car giant announce 4 month closure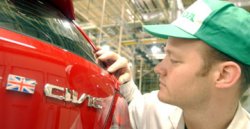 Announcement of a further
two month shutdown
Just one month on and Honda have announced that it plans to stop production for a further two months.
The Swindon plant will now close throughout April and May due to a collapse in global sales.

Staff have been told they will only get 50 per cent of their pay during the shutdown.

Honda have said there were no plans for redundancies and it intends to 'safeguard employment' for those workers who want to stay.
In the same week, BMW in Swindon have also announced that they will be shutting their factory for three weeks this year.
The first week next month.
Hello Jenson?
Is the F1 champ heading for Swindon? (well, there's no speed cameras) ...

21 November 2009

Beat the recession
New College host open evening which offers advice on surviving the crunch...

09 March 2009

Bye bye Button
No more F1 thrills and spills in Swindon, then eh?...

05 December 2008