Date added: 20 January 2009
King Sturge consider closure
Commercial property agents set to pull out of Swindon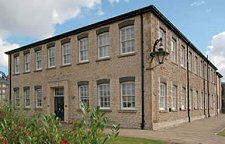 The King Sturge Swindon Office
King Sturge are in negotiations with their staff to close their Swindon office, it has been confirmed.
The commercial property agents have offered a valuation, management and building consultancy service in the town for nearly 30 years.
The company are currently based at Churchward House in Kemble Drive and employ 15 Swindon staff.
"It's very sad for all of us," Mark Stupples, UK Managing Partner, told SwindonWeb, "but we are making some very difficult decisions at the moment based on matching costs with income.
"The closure is still provisional, and we are currently in negotiations with our staff to hopefully save jobs by transferring some roles to our Bristol and Bath offices."
"We will continue to market our Swindon portfolio of properties because the town is still considered an ideal location for businesses relocating from London," he added.
Early this month, King Sturge said that average UK commercial property values fell by more than 25% in 2008 and predicted they may fall another 15% this year.