Date added: 26 January 2009
Swindon in the economic spotlight
Increased media attention 'fair' say business leaders
The Times on Saturday summed it up perfectly: 'Suddenly Swindon is in the economic spotlight'.
The newspaper dedicating a double-page spread in their business section to analysing the town they - and many others - are describing as 'bellwether Britain'.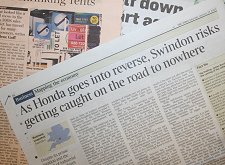 Swindon's demographics are
generally considered as a
'snapshot' of the UK overall
An article that comes after BBC News reported a major piece from Swindon last Thursday on how the town is placed – or not so well placed - to survive the deepening recession, and ITN reported live from Swindon on Friday after Tyco announced 100 job losses.
BBC Panorama also have a programme in the pipeline on how Swindon is faring in the wake of the Woolworths closure and Honda's well-publicised shutdown.
Coverage that overall is considered 'fair' according to business leaders and owners in Swindon.
"Swindon isn't completely dependent on Honda," said Bill Cotton, of Swindon Borough Council Economic Development , "but the impact of their decision to halt production for 4 months is significant for the UK-wide economy.
"That puts the focus on Swindon, and because we are seen as a good indicator of the present economic situation, I'm not surprised we're in the news so much."
"Overall, I'd say the coverage has been fair. But I would say that the positive breadth of industry here hasn't necessarily been fully reported, such as pharmaceuticals, which are a growth sector."
Thoughts echoed by company managing director Heydar Faramarzi from Emnico Technologies who featured in The Times article.
"There's no getting away from the current headlines," Mr Faramarzi told SwindonWeb, "and I can't argue with the general sentiment.
"But I decided to build my company in Swindon because of a number of huge positive factors, location being one of them. But the people being the biggest.
"Sometimes reporting doesn't cover that fully. And it's the people who will drag us out of the lull we're in.
"I have every confidence in that."
Beat the recession
New College host open evening which offers advice on surviving the crunch...

09 March 2009