Date added: 29 January 2009
On me 'Ed', son!
Swindon construction company build new Futsal arena
The first ever indoor football arena in the UK dedicated to the international sport of 'Futsal' has been built and fitted out by Swindon-based joinery and construction company, Edmont.
Edmont, which also built and fitted out one of the largest duty free shops in the world at Heathrow's Terminal 5, was appointed to build the project by @Futsal Ltd.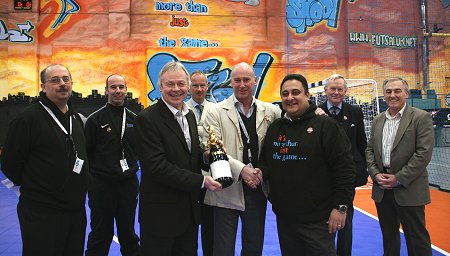 Craig Moreton (centre, white jacket) deputy managing director, Edmont, with Futsal managing director, Frank Rodriguez, and other Futsal directors.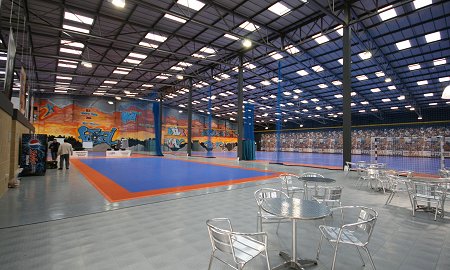 "This was a fantastic project for our team," commented Craig Morton, deputy managing director at Edmont.
"The entire scheme took us just 12 weeks to complete, from taking over the empty warehouse on Bramble Road at Techno Trading Estate in Swindon to designing, building and fitting out the arena, cafe area, changing rooms and public areas."
"We had a very tight schedule to work to, but Edmont have built not only an arena that I'm very proud of, but they've done it to the highest quality and with great attention to detail," said managing director Frank Rodriguez.
For more information about Futsal click on the link below.