Date added: 30 January 2009
Recession starts today
Honda shift workers begin 4 month lay-off
Government figures stated the recession officially started last week, but for thousands of Honda workers in Swindon today it started at exactly 2.20pm.
And this was the scene just minutes after, as thousands of workers left the factory after finishing their last morning shift for four months.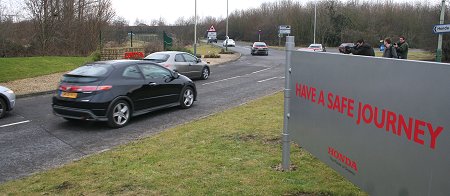 workers leaving the Honda factory today
Only the evening shift now remains to be completed before car production at the South Marston plant ceases until June as part of a major cost-cutting exercise.
And despite assurances from management, some employees fear the lay-off could be longer.
"It's been a tough day," one worker told us, "and it hasn't really sunk in that we won't be coming in on Monday.
"The mood is dispondent because a lot of us think the economy won't recover by the summer and we'll be asked to stay away for longer than they've asked us.
"I hope that's not the case, but for me, personally, dealing with the true impact of the recession starts today."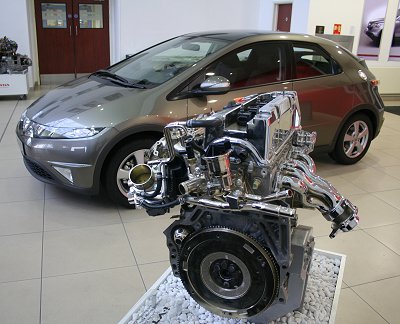 Started as an engine plant:
Honda only built engines when they first opened
their factory in Swindon in 1985,
and started building cars in 1992
Honda announced on 16 January the Swindon plant would stop production for an additional 2 months, to add to the February and March shutdown already planned.
Associates will be paid their full salary for the first 2 months but without shift bonuses, then 60% for the remainder.
The extended closure is the longest of all the major UK car manufacturers and comes on the day Honda announced their net profit plunged 89 percent in their last financial quarter.
Honda Shuts Down
BREAKING: Swindon car production suspended by Coronavirus until at least 06 April - or when 'market and supply conditions' allow....

18 March 2020

Honda Fire
Production resumes after weekend blaze...

25 January 2016

I Predict A R-iot
Kaiser Chiefs frontman Ricky Wilson in Swindon to collect new Honda Civic Type-R - SEE PICTURES

20 August 2015

Honda Task Force
We speak to project leader Jill Annal ahead of the job fair organised for redundant workers...

19 May 2014

Honda Take Stock
340 production workers at Swindon plant face job threat after shift change...

25 March 2014

Honda To Cut 800 Jobs
Downturn in EU sales blamed for shock news today - but is it because the new Civic is (hate to say it) plain 'ugly'? - COMMENT

11 January 2013

Honda Launches CR-V
Big boost for Swindon as Business Secretary praises car plant investment...

07 September 2012

Recovery Starts Here?
New Honda Civic rolls off the production line as 500 new jobs announced...

19 December 2011

Beat the recession
New College host open evening which offers advice on surviving the crunch...

09 March 2009