Date added: 05 February 2009
Swindon leads the future of mobile broadband
Motorola first to trial 4G access in the UK

Swindon is already known as leading broadband Britain, with more households here having high-speed access than any other town.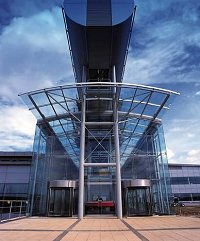 And now it's the home of the latest mobile broadband development, with news that Motorola are trialling what has been described as 'the future of mobile internet'.
The Swindon-based tech giants have installed the first UK test-bed for 4G, also known as Long Term Evolution (LTE), which can deliver downloads speeds of upto 100Mbps - the fastest in the world for a wireless device.
Motorola is now inviting network operators such as T-Mobile and O2 to see the technology in action.
The company, who have been based in Swindon since 1988, plan to release its first commercially available LTE products later this year.
It's Swindon, Ma'am!
QUEEN ELIZABETH II: In her amazing 70 years on the throne, here's the 4 occasions Her Majesty officially stopped off in Swindon...

Radnor Street Remembrance
Swindon honours its war graves at much-neglected cemetry - GALLERY + PICS FROM OTHER REMEMBRANCE DAY CEREMONIES

11 November 2012

Strictly Poppies
Come Dancing stars perform at the opening of Remembrance Field at Lydiard Park - GALLERY

09 November 2012

Final Ride of Respect
Thousands of bikes turn out for last Mother's Day parade through Royal Wootton Bassett - GALLERY...

Wootton Bassett Rocks!
Local people unite to make charity single & video for military charities - GET INVOLVED - VIDEO FILMING THIS SUNDAY...

15 September 2011

Everyone A Hero
ARCHIVE: Wootton Bassett honours Lieutenant Daniel John Clack - the final repatriation...

18 August 2011

The Final Repat?
Emotional farewell in Wootton Bassett for Marine James Wright...

11 August 2011

Ride of Respect
10,000 bikers ride through Wootton Bassett to show appreciation for fallen soldiers...

04 April 2011

A Mother Mourns
Emotional repatriation at Royal Wootton Bassett...

30 March 2011

Royal Tribute
Prince Harry opens Remembrance Field at Lydiard Park...

09 November 2010

Motorola Building
One of Swindon's major pieces of industrial achitecture - and James Bond film location...