Date added: 13 February 2009
Swindon Fit for Business
Evening showcases sport, health and well being at Mercedes-Benz
Swindon businesses were invited to an evening of entertainment at Mercedes-Benz in Swindon last night

But the topic wasn't cars – it was fitness.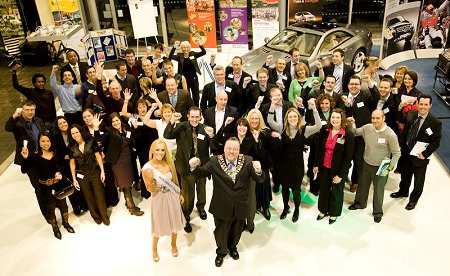 visitors and exhibitors gathered at Mercedes-Benz of Swindon
for Fit for Business

The free event, organised by Swindon Borough Council's leisure services team, was a chance for employers to learn about the advantages of improving the wellbeing and fitness of their employees, and also ways to make it happen.

Football shooting skills, golf, bike riding, a driving challenge were all on offer for guests to try, amongst exhibitions from a number of key organisations promoting sport, health and fitness.

Further events planned include the Swindon Festival of Sport, the 2009 Parachallenge and Swindon's biggest sporting occasion, the Half-Marathon, later on this year.
Fit for Business Picture Gallery

Fit for Business - 13/02/2009