Date added: 26 February 2009
A mix of pasta and prizes for Morris Owen
Swindon firm celebrate business award at the La Dolce Vita
Innovation and creativity might not be words commonly associated with accountants – but Swindon firm Morris Owen has proven it has broken the mould.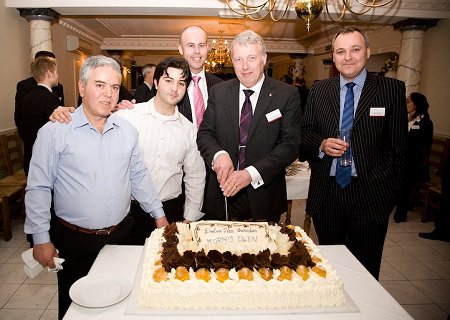 Rob Harmen, partner at Morris Owen (centre) with the owners of the La Dolce Vita (l) and colleagues from Morris Owen
The firm which was awarded the accolade of most innovative large firm 2008, by the 2020 Membership Group, celebrated their success with clients and other businesses leaders from across the town at the Dolce Vita last night.
"We were delighted to win an award like this," commented Rob Harman, partner at Morris Owen.
"It's a great tribute to everyone at Morris Owen, especially in these tough economic conditions it is even more essential to remain competitive and innovative in the solutions we offer."
To win the award, the firm, which is based in Devizes Road, had to show how it has won new clients, built on its work with existing clients and stayed one step ahead of the competition over the past year.
Dolce Vita Picture Gallery
photos by Kris Taliowski