Date added: 25 March 2009
Festival of Sport set to be a knockout
Mercedes-Benz are up for the Challenge this May
Companies in Swindon are giving the Festival of Sport a big push – and the new 'It's A Knockout' contest looks set to be a hit.

So far nine teams have signed up for the tournament, which will take place at Lydiard Park as part of the action-packed weekend on Saturday 30 May and Sunday 31 May.
One team definitely up for the challenge is Mercedes-Benz of Swindon!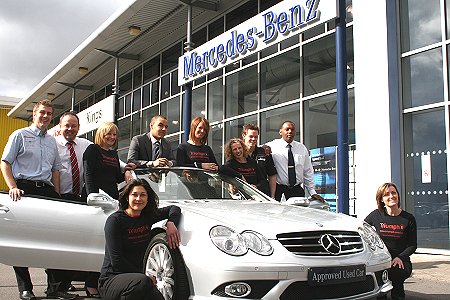 (l-r) John Dorey, David Harries, General Sales Manager Mercedes-Benz of Swindon, Tina Woodward, Devon McCalla, Donna Parsons-Brown, Debbie Mitchard, Kevin Gardiner, Tony Dechausay,
Sherene Mohammed (front Left)
and Donna Grand (front right)
"We're thrilled to be taking part in the Festival of Sport," commented Mike Sands, General Manager at Mercedes Benz, Swindon.
"It's a fantastic opportunity for work colleagues to come together, enjoy some exercise and, most importantly, have a great time.

"This is the first time Mercedes-Benz will take part in the Festival of Sport and our It's A Knockout team is looking forward to some great fun."
The Festival of Sport

The Festival of Sport, now in its third year, is an extravaganza of physical activity featuring a host of sports tournaments for adults, along with scores of free activity taster sessions for everyone.

Competitive tournaments for individuals and teams on 30 May include tennis, tag rugby, football, volleyball, angling, badminton, hockey to name just a few. Registration is now open and the deadline for entries is Friday 8 May.

"The Festival of Sport is part of the wider Challenge Swindon initiative, led by Swindon Borough Council, which aims to increase participation in sport and physical activity," said Purminder Mondair, Marketing and Communications Manager at Triumph.
"This should help achieve the target of getting half the population doing 30 minutes of physical activity three times a week by 2020."
Fit for Business
A free event that every Swindon company should get involved in - TONIGHT...

Flying high!
Arval employee to represent UK at World Air Games...

21 August 2008