Date added: 14 April 2009
Major estate agency names merge
Dreweatt Neate and Carter Jonas join forces
Dreweatt Neate, one of the most established estate agency names in Swindon have merged with fellow property firm Carter Jonas.
The merger will be effective from May 1, 2009, and the new firm will be called Carter Jonas.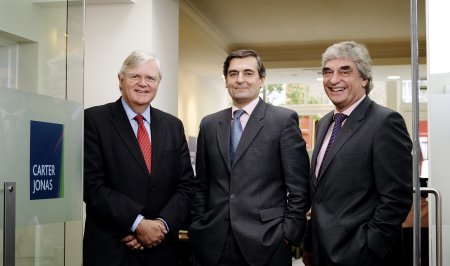 Opening the doors to a new future:
John Henniker-Major, Mark Granger and David Smith
of the new Carter Jonas.
The result will be a new property consultancy with a combined turnover of £30 million, 75 partners plus more than 400 staff.
"Not only are we very similar in terms of business mix, culture and heritage, but we are a perfect fit geographically," explained David Smith, senior partner Carter Jonas.

"For some time, both organisations have felt that a merger could generate significant opportunities," said Mark Granger, Chief Executive Carter Jonas.
"We're very excited that this is finally happening. With its vast experience and considerable talent pool, we are confident that Carter Jonas will be one of the strongest and most dynamic property firms in the UK."

"The firm now has more than 400 years of combined trading experience behind it, arguably giving it one of the finest pedigrees of any business in the UK property sector."