Date added: 11 May 2009
Alex Tew
The kid done good
Whatever happened to the Million Dollar Homepage Kid?
Alex Tew became a worldwide celebrity in 2005 when he came up with an idea in his Cricklade bedroom that took the internet by storm.
He was about eight years old and still growing up in Cricklade when he decided he wanted to be an entrepreneur, and when he was 21, he gave up working in Tesco's, took a piece of paper and wrote down: 'How can I become a millionaire before I go to university?'
Within minutes he had the answer.
"The idea just came to me," he said. "I would like to say it was more dramatic than that, but it wasn't."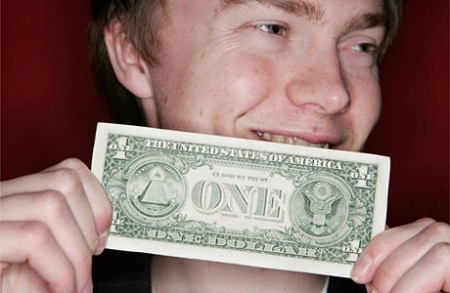 Swindon's Alex Tew, designer of the Million Dollar Homepage
His idea was to sell tiny advertisements at $1 per pixel and display them on a single page, which would stay live on the net for at least five years. With a grid of a thousand pixels square on the page, he stood to become an overnight millionaire – and the idea went 'viral'.
The Million Dollar Homepage (www.milliondollarhomepage.com) proved so successful that he was even able to surpass his original goal.
Just before reaching his target, requests for orders were being received at a rate of 100,000 pixels per hour, so he decided to hold back the last 1,000 and put them up for auction on eBay. They fetched $38,000.
But not everybody was impressed.
The Washington Post said the site was "a cheap, mind-bogglingly lucrative marketing monstrosity, an advertising badlands of spam, banner ads and pop-ups" which "looks like a bulletin board on designer steroids, an advertising train wreck you can't not look at".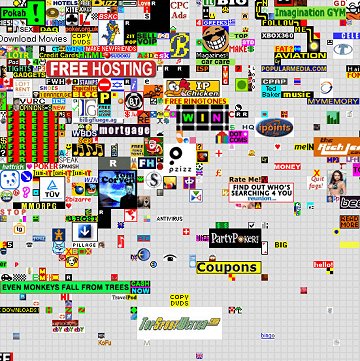 The Million Dollar Homepage
At the time, Tew claimed he was trying to raise money to cover the student loan he was about to get to study at Nottingham University's Insititute for Entrepreneurial Innovation, which was true - but he never did finish college.
After just one term on the course, he admitted: "I found I had already learned as much about business as I was ever going to learn at uni, and I had money behind me and lots of new ideas."
One thing he always knew - unlike most people who tried to copy it and failed – was that the basic Million Dollar Homepage idea could only work once.
This time, advertisers paid $2 a pixel, and visitors were lured to the site because they were given free entry to a jackpot draw after clicking on advertisers' pixels.

Second venture
The prize was expected to be $1,000,000 and the plan would have produced another £900,000 profit for Tew, but it fell well short of the target, so that some commentators have delighted in calling Pixelotto a flop.
Even so, there was a $153,000 payout to the lucky winner, who was from Kenya, and Tew is thought to have pocketed something approaching the same amount from the venture. Some flop.
All the time, lucrative job offers have flooded in from around the world, but once an entrepreneur, always an entrepreneur, and Tew has rejected them all, although he did embark on a tour of universities to promote entrepreneurship in young people. Called The Ideas Igloo Roadshow, it was partly promoted by Microsoft.
That was in 2007, and if it looked like Tew had lost that midas touch, 2008 proved otherwise.
In December, he hastily put together a simple Flash-generated game after turning on the news and watching the infamous shoe-throwing incident during George Bush's visit to Baghdad.
He called the page Sock and Awe (
www.sockandawe.com
), and within hours it was attracting millions of visitors. After three days of growing traffic, Tew decided to auction the site on eBay, which earned him another $7,818 – another good evening's work.

Alex Tew designed the Sock and Awe game and then quickly sold it
"It's really cool," he told Reuters. "From Monday concept, Tuesday launch, Wednesday growth, we've had a Thursday exit."
And Tew now has a brand new venture up and running, which he has set up with a small team and – naturally – minimal cost and is running from humble offices in London's Soho.
Called PopJam (
www.popjam.com
), it simply provides a platform for internet users to share humorous images and other jokes, with points being award for contributors.

It's early days yet – the site is advertised as a 'beta', so is technically still being developed – and Tew himself is the biggest contributor.
Some of its content is probably not the kind of thing most people would want to share with their mother-in-law and the general level of the humour could be described as juvenile.
But nobody is betting against the Million Dollar Homepage Kid cashing in yet again.