Date added: 11 June 2009
A business to die for
South Marston man is making cut-price coffins in the recession
You could call it a dead cert. When the do-it-yourself age met the recession, it was really only going to end one way: with flat-pack coffins.
Roger Sansum, from South Marston, is now planning to turn what started off as a favour for a friend into a proper business - making cut-price coffins for cash-strapped corpses.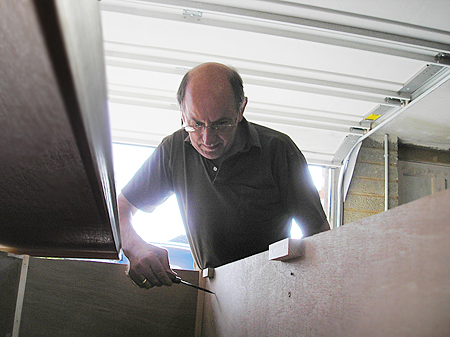 Cheap and cheerful:
Roger Sansum hard at work assembling one of his coffins
And while he doesn't exactly expect to see his clients queuing up to do business with him, their loved ones might.
The coffins are intentionally basic – they are made in a simple rectangular box shape and the 'innards' are optional - and although you wouldn't call them cheap and cheerful, they are certainly cheap.
"To be honest," said Roger, 60, "I have no idea how much a standard coffin costs, but at £250 a time, mine must be as cheap as they come.
"I use the cheapest materials and make it to the simplest design, and I can make one in a day.
"If the clients are local, I supply the coffins made up, but for people who live further away, I've adapted the design to be easy to assemble, and supply them as a flat-pack. They take about half an hour to put together."
They are suitable for both burials and cremations, although the burial version is slightly more expensive because it has to be strong enough to withstand earth being thrown on top of it.
Eco-conscious customers will be happy to know that they tick all the 'green' boxes too, especially when delivered locally, but that's a bonus, not the main point of the idea.
"It all started last October when a friend of the family died," explained Roger. "His widow said the deceased had always been against fancy funerals, so she decided to do it herself and make the whole process as simple and as cheap as possible.
"I am a cabinet maker by trade, so she asked me if I could make the coffin. I'd never made one before, but I soon worked out a design. And when me and my brother started looking into it, we were amazed how easy the rest of the funeral was to organise, and how cheap it could be.
"The deceased died in hospital, as do more than 80 per cent of people, and when we contacted them, they said it was OK for his body to stay in their mortuary until the funeral.
"I am quite happy to measure up on behalf of a client, if necessary, but for that first one the measurements were provided. When I asked the widow what sort of wood she wanted me to use, she told me to use whatever I had spare in my workshop. So I used plywood – three-eighths thick for the sides and half inch for the base and lid.
"When it was finished, my brother took the empty coffin to the hospital in his estate car, on the day of the funeral, had the body put in it, and then transported it straight to the crematorium.
"We made our own arrangements with the creamtorium. If you want the body to arrive at the start of the ceremony, you need to provide your own pallbearers, but if you arrange it with them beforehand, they'll put the coffin in place before the start.
"It's that simple. "I suppose what I do is no different to what people would have done, years ago. They'd arrange it themselves and get somebody local to make a coffin for them. I'm only doing what they would have done back then."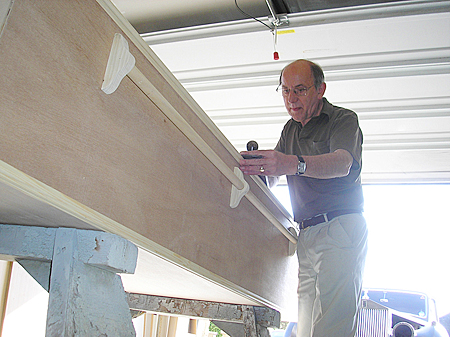 Roger only uses timber from socially responsible sources
Roger said there is no question of disrespect. On the contrary, that first coffin fulfilled the deceased's wishes to the letter, particularly as big-hearted Roger ended up giving the coffin and his time to his friend for free.
"The widow later sent me a nice thank-you card, and I got so many compliments about the coffin from the mourners that I got to thinking there was a potential business in it."
He is already taking enquiries from places as far away as Africa.
"There have been some interesting requests," he said.
"I've been asked if I could make a glass coffin, and I had a strange email 'conversation' with a gentleman in Africa who asked me whether I could provide a motor that makes the corpse move, which I understand is a bit of a fad over there."
In a way, all this seems like destiny because Roger can – entirely by coincidence - offer some other useful services to mourners.
He just happens to own a couple of Rolls Royces, which are long-term restoration projects but have seen service as wedding cars, and they are also used to take guests out for a spin while staying at The Old Post Office, a friendly, popular guest house in South Marston that he runs with his wife of 40 years, Jackie.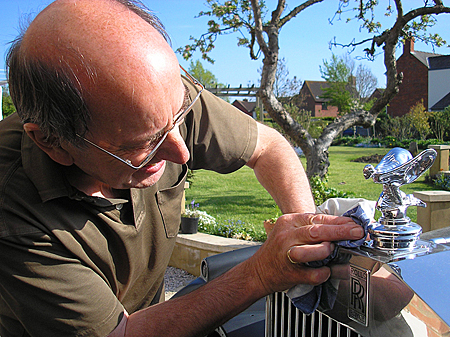 Roger's other sideline, Rolls Royce restoration
Their first Rolls, which they bought 30 years ago, is a 1932 model which used to be – of all things - a hearse.
Roger converted it into an estate when their three now grown-up children were toddlers. That's currently undergoing a major rebuild, but their 1954 model, which he bought a year ago, is available for ferrying relatives to and from funerals in style.
And should you also decide to spend some of the money you saved on the coffin to pay somebody to sing at your funeral, note that Roger's wife Jackie is a professionally trained opera singer, with the voice of an angel. But Roger is keen to point out that he is a maker of cut-price coffins, not an undertaker.
"The whole point is to keep everything as simple as possible and minimise cost, so I'm certainly not trying to compete with funeral directors. But if people want an alternative, then maybe my coffins and a do-it-yourself approach to the process is the solution. I like helping people, and if I can make a little bit of a living out of it too, then why not?"
In other words, he's not out to make a killing.