Date added: 17 October 2009
Are you Swindon's best new business of 2009?
Competition aims to find Swindon's best new business
The Swindon Strategic Economic Partnership (SSEP) is once again seeking to uncover the best new business brains in the borough.
Entries to the Swindon New Business Competition 2009 are open to entrepreneurs who have recently started a new business in Swindon.
The competition boasts fantastic cash prizes, with £3,000 going to the winner and £1,000 to two runners-up, and the chance to benefit from free training and free membership of Swindon's top business organisations for a year.
Last year's winners were OMG Hair & Beauty and Emnico Technologies.
Vanda Tanner, director of OMG Hair & Beauty, said: "Having won Swindon New Business of the year 2008, OMG Hair & Beauty has continued to grow and develop.
"It opened up many opportunities for us, in terms of marketing, raising our profile and most importantly, giving our clients extra confidence that they were dealing with a professional and dedicated company.
"Our team also felt great, as it's recognition for their hard work and contribution. I would recommend any business owner to enter this competition as it also gives you a big push to really think about your company's goals, achievements and plans."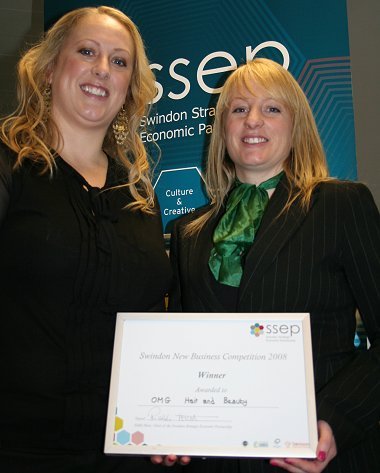 SSEP Swindon New Business Winners 2008:
The competition is led by the SSEP's Enterprise Group, which organises a range of initiatives to stimulate new and existing business growth in the borough.
Entry forms can be downloaded from the SSEP Link below and should be submitted by October 30.
To be eligible, businesses must have started trading between October 1 2008 and September 30 2009 and be located in the borough of Swindon.
For further information, please call Tiso Fiaola or David Evans on 01793 466168 or email economicdevelopment@swindon.gov.uk
SSEP Conference 2008
Location and good people why Swindon can survive the downturn, say business leaders...