Date added: 28 October 2009
Regeneration creates jobs for local people
Canal Walk refurbishment offers a timely boost for Swindon's economy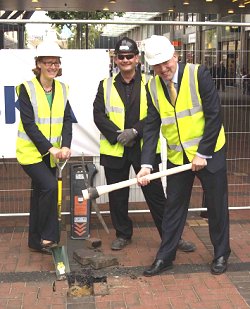 Local work for local people:
(l-r) Alison Hatcher, South West RDA
Dylan Thompson, Project Manager,
Skanska Rod Bluh, Leader,
Work to re-vamp Canal Walk in Swindon is bringing benefits to the local economy by providing local jobs and increased trade for local construction based businesses.
Nearly fifty percent of the jobs created by the Canal Walk programme have been filled by local people - with positions ranging from general labourers to tele-handler drivers - and three Swindon based scaffolders are currently leading installation of the living green wall.
Local suppliers are also feeling the positive impacts, with companies such as Cemex, Burdens and Travis Perkins providing construction materials for the much needed outdoor improvements.

"As well as delivering improved facilities for the public when the project is complete, the refurbishment of Canal Walk is already delivering many benefits for the town by providing jobs for local people and boosting business for local suppliers," commented Cllr. Phil Young, Swindon Borough Council Cabinet member for Culture, Regeneration and Economic Development said
"There is also a knock-on effect on our shops and cafes where the labour force is spending money and, of course, the positive impact for local hotels and B&B's where out of town workers are staying."

In a bid to minimise waste, the whole project team is committed to recovering as much material as possible to encourage recycling and re-use.
Let it flow
New Canal Walk fountain is switched on for the first time...

19 May 2010

Digging Deep!
Work begins at the £50m Churchward site...

13 August 2008

PRIDE of Swindon
Council workers awarded for exceptional effort in 2007...

16 January 2008