Date added: 17 November 2009
Free internet for the whole of Swindon
Swindon Council makes the internet free to all
Swindon is all set to become the first town in the UK to offer completely free Wi-Fi access.

It's the first project of its kind and will provide a wireless network where businesses and residents can access the internet free from anywhere within the borough.
The scheme will start in Highworth on 07 December, with a full roll out in other areas by April 2010.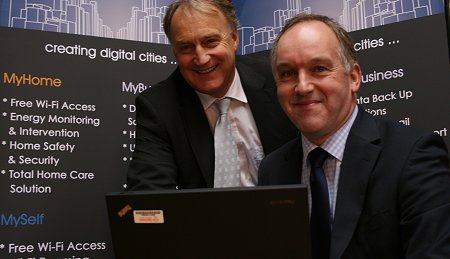 Rikki Hunt, Chair Swindon Strategic Economic Partnership and Rod Bluh, Leader Swindon Borough Council at the launch of
This technological revolution is Swindon Borough Council's first public/private commercial venture and will provide a range of services and applications for the whole community including free connection charge, and borough-wide movement, while staying online.
The public will be able to access the internet and download emails for free but usage will be limited.
The Council has teamed up with the concept's originator Rikki Hunt and digital technology firm aQovia to create the company Digital City UK, which under the brand name 'Signal' will install the Wi-Fi wireless mesh.
"This is a fantastic opportunity for the whole of Swindon creating total social inclusion through our free service," commented Rikki Hunt, director of Swindon Strategic Economic Partnership.
"While others talk, Swindon is delivering a Digital City which will benefit both the public and business communities."
"This will have real benefits for everyone living in Swindon," said Rod Bluh, leader of Swindon Borough Council.
"Not only will residents in the Borough be able to access the internet for free, the Council and its partners will be able to provide cutting edge services to the areas or individuals who need them."
More information about Swindon's Wi-Fi network can be found through the Get Signal website via the link below…
UK's first wi-fi town
BBC business programme features Highworth wi-fi-cloud - WATCH VIDEO...

19 March 2010

SSEP Conference 2008
Location and good people why Swindon can survive the downturn, say business leaders...