Date added: 30 November 2009
Enterprising Women Awards
Celebrating exceptional female entrepreneurs throughout Britain
The winners of Enterprising Women's prestigious annual Awards 2009 were announced on 24th November, amidst a festive and vibrant atmosphere at a fabulous gala lunch in Cambridge.
And although our ladies from Wiltshire didn't win - Wiltshire based entrepreneurs Paula Wynne, of Remote Employment, and Lynette Morrison, of Tailored for You both successfully reached the exciting penultimate stage.
Paula in the Enterprise Challenge category and Lynette in the Innovator/SET category.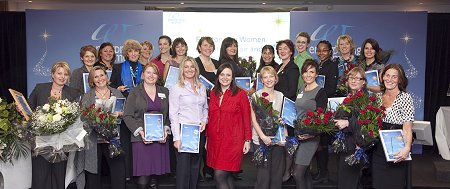 all the finalists at the Enterprising Women Awards
These prestigious awards celebrate female entrepreneurs whose hard work, commitment innovation and dedication has made them stand out in the current tough economic climate.
"I came for a day out, to meet new people and network. I never expected to win Overall Enterprising Woman of the Year 2009!," commented Sarah Fuller of Full Support Healthcare Ltd, who was presented with the ceremony's premier accolade of 2009 Enterprising Woman of the Year by a team of judges.
"And being recognised as a High Flyer Award winner too! Our marketing team will go into overdrive, and this will impact extremely positively on business."
UK top six
More recognition for the SSEP Swindon new business of the year...

11 March 2009

OMG - what a year!
Swindon hair and beauty salon celebrate first birthday - see gallery...

15 January 2009

The perfect venue
The Liddington granted approval as wedding venue...

02 December 2008

SSEP Conference 2008
Location and good people why Swindon can survive the downturn, say business leaders...