Date added: 26 February 2010
25 years helping small businesses
BSS House general manager retires
If there's one person who has witnessed - and helped - in the regrowth of Swindon over the last 25 years, it's Maureen Harvey.
And today she retired.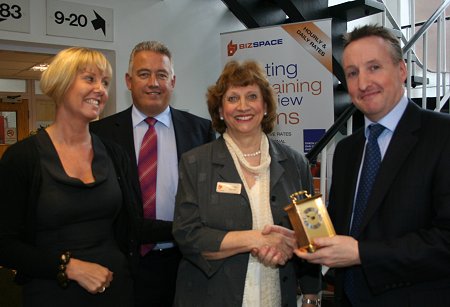 Maureen Harvey (centre) alongside Bizspace directors
Emma Long, Gareth Evans and David Myring
Since 1985, Maureen has been general manager of BSS House, now know as Bizspace, on Cheney Manor Industrial Estate - the first premises to offer 'easy in, easy out' terms for start-up and small businesses in Swindon.
A pioneering idea that has proved highly successful, with various other organisations and private enterprises now offering such office space, workshop and warehousing schemes.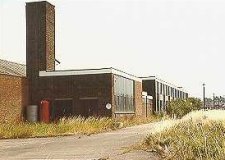 the former Triumph factory in 1985
- and now, Bizspace business centre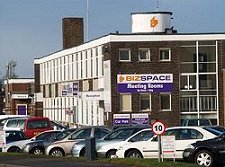 "It was difficult times in the mid 80s," Ms Harvey said, on her retirement day this week, "because the GWR Works was about to close and the country was only just coming out of recession."
"We took over what was formerly the Triumph factory and offered tailor-made package for starter units on month-to-month leases.
"It was enough to tip the balance and persuade many new businesses to "give it a go."

The project was welcomed by the Swindon Enterprise Trust, later to become Great Western Commerce and Enterprise (GWCE), and all local authorities and political factions.
The rest is history, as they say, as Swindon led the way in the growth of small businesses during that period and was famously dubbed 'Europe's fastest growing town'.
"I've very proud of being part of that," Maureen added, "and meeting so many people here at BSS."
"I'll be sad to leave, but just like in 1985, it's still the perfect place for anyone thinking of basing their new small business in what are very difficult economic times."